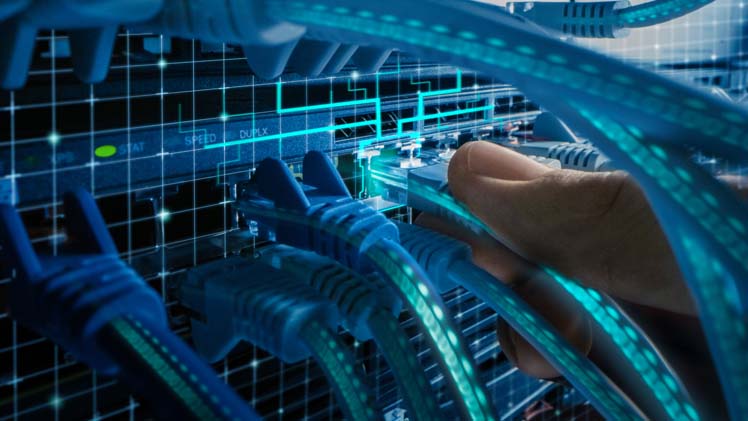 In a recent survey of over 1500 companies, Seagate reported that businesses could expect a two-year annual growth rate of 42.2% in data generation. The report also notes that today, we create as much data in a single hour as we did in a year only two decades ago.
Every year, business networks support more devices, and the volume of data traffic is increasing exponentially. Not surprisingly, bandwidth often becomes strained, bottlenecks occur, and companies may experience periodic slow-downs or even outages. 
In addition, since the beginning of the pandemic, businesses have had to respond with remote work options, safer in-person and more robust online shopping experiences, and better surveillance systems escalating data use even further.
How 10 Gigabit Ethernet Switching Can Impact Your Current and Future Networks
Fast Ethernet (10/100) at the network edge is dead. Gigabit and Multi-gigabit edge networks have become the norm, as businesses strive to meet current network demands and prepare for future growth.
Even as the pandemic subsides, most companies will see increasing data demands due to:
Enterprise software use
Email and file storage
More frequent virtual meetings
Increased number of connected personal devices
Digital signage
Customer WiFi access and loyalty programs
POS systems
IP security cameras

 

and lighting
Smart WiFi devices like door locks and

 

water detection systems
No matter which industry you're in, an increased number of applications and connected devices accessing your networks means higher bandwidth demand at the aggregation layer. Gigabit aggregation just won't cut it anymore. A 10 Gigabit aggregation network can reduce network congestion, accommodate a higher number of users, improve employee productivity, and enhance the customer experience.
As the demand for data and WiFi speeds increase, you need the most bandwidth possible to ensure efficient data transmission and uninterrupted connectivity. In addition, with more streaming data and larger files transfers, higher bandwidth will help reduce congestion in the aggregation and core layers of your busy network.
If you're not using 10 Gigabit Ethernet switches in your aggregation layer yet, it may be time to upgrade. You don't want to wait until your legacy Gigabit links begin to cause traffic jams. A poorly performing network affects employees and customers alike.
Network Upgrades Can Happen in Stages
As network needs change, upgrading your IT infrastructure may give you an edge over your competition, but costs and benefits must be carefully considered.
Planning for growth and investing a little more now can reduce your future upgrade needs, increase your ability to scale later, and save you money in the future. Fortunately, you don't need to upgrade your entire network at the same time. Instead, you can migrate to 10 Gigabit in stages.
Some upgrades you'll need to consider include:
Cabling

 

– 10G uplinks from the edge to the aggregation layer require fiber or copper. Most Gigabit and multi-gigabit edge switches with 10G uplinks utilize SFP+ ports for the uplinks, with either multimode or single-mode 10G transceivers. Multimode transceivers are used for shorter runs of (approx.) 300m, while single-mode transceivers can be used for longer runs.  Some edge switches also utilize 10GBASE-T copper RJ45 ports for uplinks. In this case, to get full 10G speeds, CAT6a (or better) cabling is required, and you are limited to 100m distance.
Managed or Unmanaged Switches

 

– While the plug-and-play functionality of unmanaged switches is ideal for home use and light-traffic business networks, most businesses need more control over the network and connected devices. With smart managed and fully managed switches, IT teams can monitor and prioritize network traffic, utilize advanced security features, and troubleshoot more efficiently. Managed switches, with 10G copper or fiber uplinks, can provide the flexibility, connectivity, performance, and reliability your growing business needs.
Power Over Internet (PoE) Switches

 

– With PoE edge switches, you can reduce your cabling cost and power your devices the ethernet cable. That means you can support security cameras, access points, VoIP phone systems, and more while simplifying installations and reducing clutter throughout your space.  PoE edge switches are also available with 10G uplinks to support larger packets of data from the edge to the core.
Always Consider Future Growth
The amount of data transferred over the Internet is growing exponentially, with no plateau in sight. If your business is expanding, so will your network needs. That's why it's essential to plan ahead by installing flexible, adaptable systems that will continue to meet your company's future demands.
10 Gigabit Ethernet technology in the aggregation and core layers of a network has become an accessible and cost-effective future-proofing option for businesses of all sizes across industries.
Future-Proof Your Network with D-Link Smart Managed Switches
The DGS-1250 series is a cost-effective edge switch solution for small-to-medium business and enterprise needs. With 24 or 48 x 10/100/1000BASE-T ports, an additional 4 x 10G SFP+ ports for high-speed uplink connections, and a robust 370-Watt PoE power budget, you'll have a powerful, easy to maintain network at an affordable price.
With advanced security features and D-Link's exclusive 6kV surge protection, you can confidently keep your network and its powered devices secure despite lighting strikes and power surges.
The DXS-1210 series 10G switches are capable of servicing a range of network needs in any business. For aggregation, they offer a combination of 10G copper and fiber ports, and come with a complete lineup of L2 features including port mirroring, Spanning Tree Protocol (STP), and Link Aggregation Control Protocol (LACP).
To learn more about powering your 10 Gigabit network with D-Link switching solutions, contact us today.