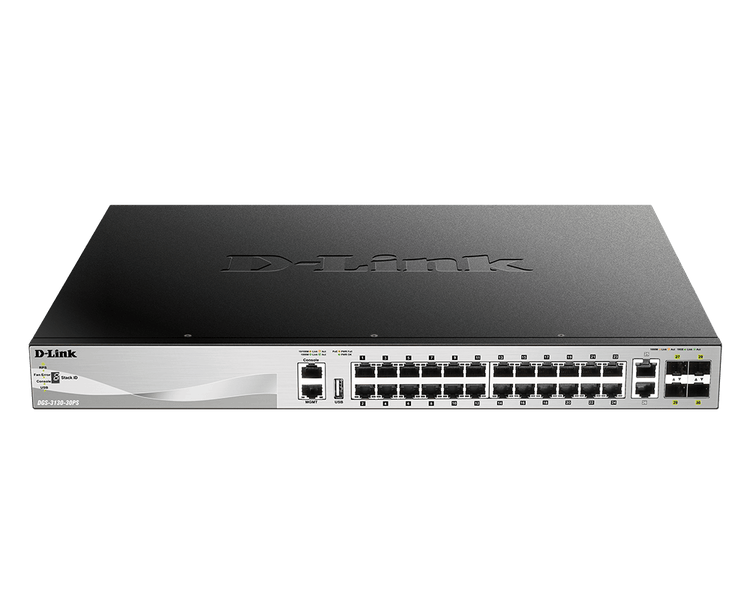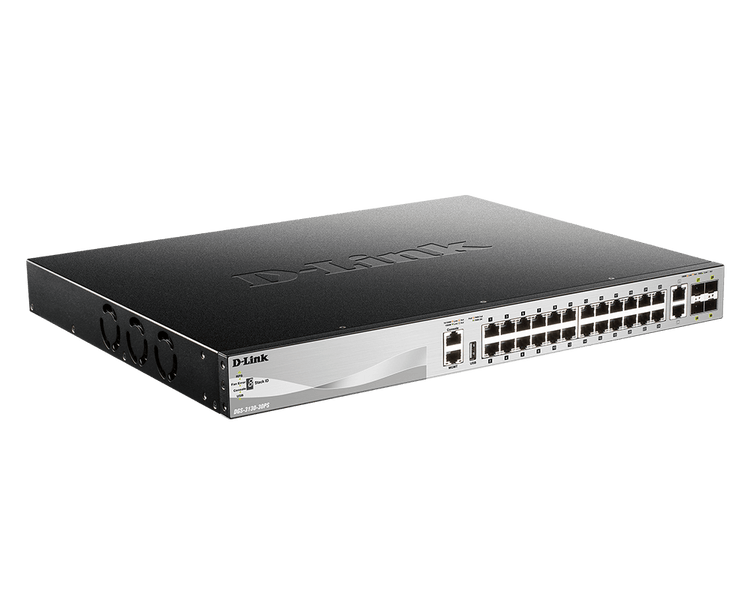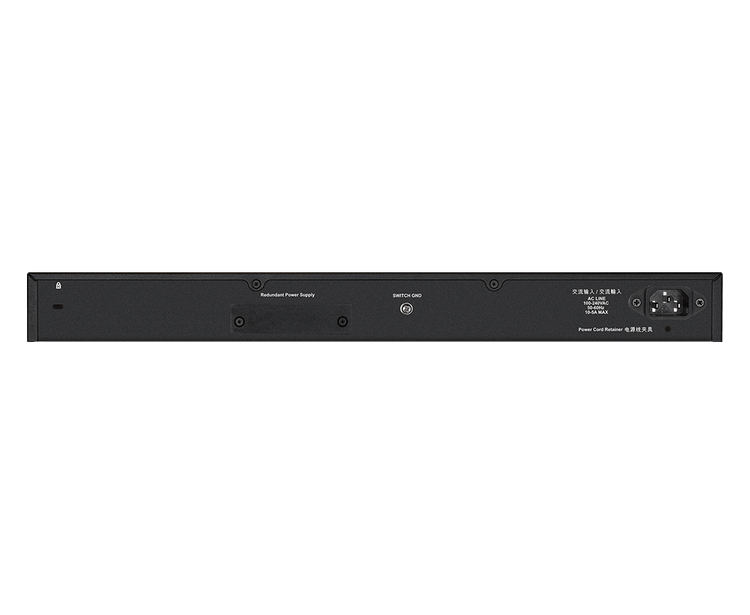 D-Link 30-Port Lite Layer 3 Stackable Managed PoE Switch - (DGS-3130-30PS)
Lite Layer 3 stackable managed switches for enterprise and metro Ethernet access networks
24 x 10/100/1000BASE-T PoE ports

2 x 10GBASE-T and 4 x 10G SFP+ ports provide all the uplink capacity your network needs

Premium L2 and L3 features effortlessly improve network efficiency and reduce unnecessary data transfer

High redundancy features to provide professional-grade reliability and a longer product life:
— Dual power inputs
— Ethernet Ring Protection Switching with <50ms recovery time
— 6 kV surge protection protects the device and those connected from unexpected surges
— 802.1d/w/s Spanning Tree Protocol avoids potentially network crippling loops

RIP/RIPng and OSFPv2/v3 dynamically maps out your network, aiding data to get to its destination via the fastest route possible

A formidable PoE budget of 370W allows powering of numerous external devices (further expandable to 740W)

Expand capacity in a flash with physical stacking up to 9 units

80 Gbps per device physical stacking bandwidth

Smart Fan self-adjusts accordingly to maintain optimal operating temperatures

Lifetime Warranty includes Next Business Day Advanced Replacement
Adaptable, Bottleneck-Free 10G Business Connectivity
The DGS-3130 Series is a highly versatile Lite Layer 3 stackable switch. Including powerful L2 & L3 features, as well as support for multiple software images, it is highly pliant, capable of accommodating different network deployments.
With network bottlenecks on the rise, the DGS-3130 Series's six 10 Gigabit uplink ports are an ideal solution. Business can flexibly increase their bandwidth with flexibility to incrementally meet growing bandwidth demands.
Why You Want It
Highly Reliable
Redundant power supply (RPS) support, Ethernet Ring Protection (ERPS) and 6 kV surge protection on all GE and RJ-45 access ports
Feature-Rich Unified Software
Powerful L2 and L3 features such as Static Route, RIP/RIPng and OSPFv2/v3
Scalable and Highly Available
Supports high bandwidth stacking and fault tolerant topologies
Easy Access Control
Support for 802.1X, Web-based Access Control (WAC), and MAC-based Access Control (MAC)
Weather the Storm
The DGS-3130 Series features built-in 6 kV surge protection on all PoE and non-PoE Gigabit Ethernet access ports without needing external surge protection. This effectively protects the switches against sudden electrical surges caused events such as lightning strikes or unstable electrical current. This significantly reduces the chances of equipment being damaged, effectively lowering maintenance costs by minimizing the need for expensive repairs or replacement.
High Availability. Highly Flexibility.
The D-Link DGS-3130 Lite Layer 3 Stackable Managed Switches are a Gigabit access layer solution specifically designed to connect end-users in enterprise and metro Ethernet access networks.

The switches support high bandwidth, long distance stacking, with physical stacking of up to 9 units over fiber, increasing available Gigabit ports on demand. This makes them ideal for network administrators who demand agile expansion functionality without having to sacrifice network reliability.
Slash Your Network Downtime
The DGS-3130 Series gives enterprises and organizations a highly reliable network, allowing for maximum business continuity. It has built-in G.8032 Ethernet Ring Protection Switching (ERPS) to help minimize recovery times to 50 ms.

Along with a host of essential network reliability features, all switches in the series support an external redundant power supply to ensure your operations continue unimpeded.
Comprehensive Security
The DGS-3130 Series gives your network the protection it deserves with leading-edge security features that handle threats effectively. With built-in IP-MAC-Port Binding, the switches allow administrators to enhance user access control.

Other advanced features like DHCP Snooping let the switches automatically learn and save IP/MAC pairs to the IMPB white list.
Powerful and Unified
Powerful L2 and L3 features such as RIP/RIPng and OSPFv2/v3 come together in an integrated software image. This allows the switches to satisfy a wide range of requirements for different applications – perfect for building the solid and networks.
Manage Network Traffic in a Whole New Way
The DGS-3130 Series implements a rich set of multi-layer QoS/CoS features to prioritize critical network services such as VoIP, video conferences, IPTV, and IP surveillance. With robust features including Traffic Shaping, L2 Multicast, Host-based IGMP/MLD Snooping and ISM VLAN, administrators get a whole new way to manage their traffic that fits their needs.
Flexible Access Control Policies
Strict access control and deployment are made easy with the DGS-3130 switches. All support authentication mechanisms such as 802.1X, Web-based Access Control (WAC), and MAC-based Access Control (MAC), and allow individual policies to be assigned to each host after authentication. In addition, the switch also supports Microsoft® NAP (Network Access Protection).
For more information on our business-class solution, reseller pricing, distribution availability, and partner program please reach out to our commercial sales team at 888-354-6574 or solutions@us.dlink.com

D-Link 30-Port Lite Layer 3 Stackable Managed PoE Switch - (DGS-3130-30PS)