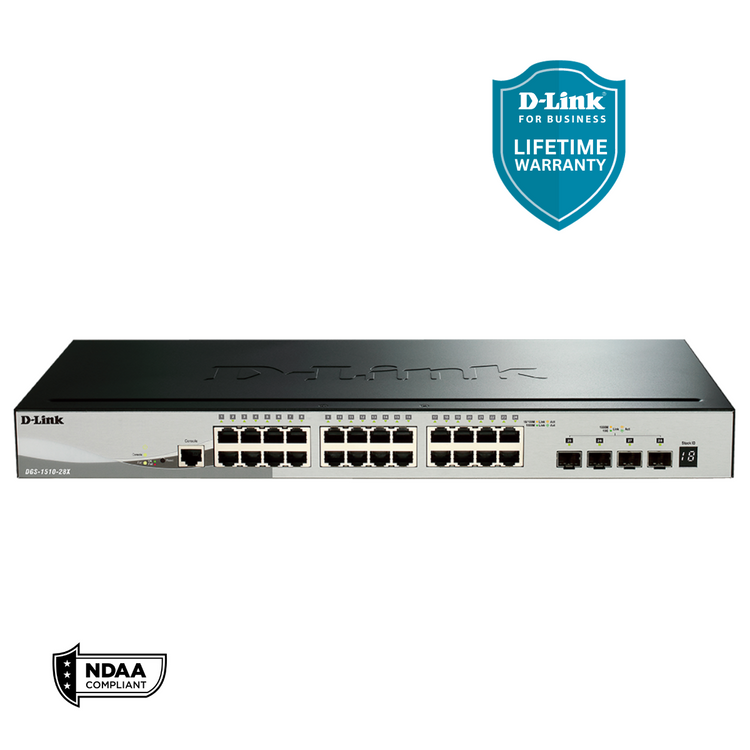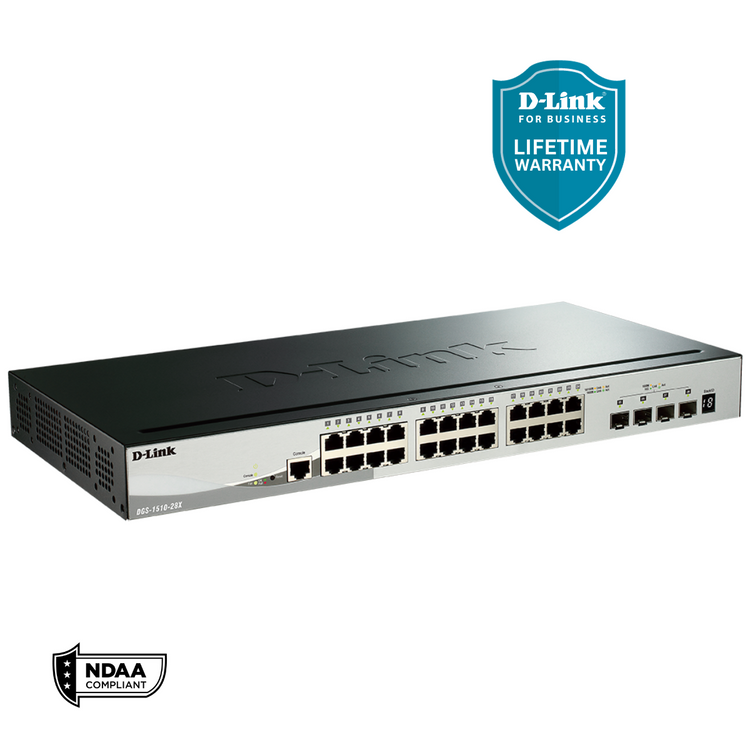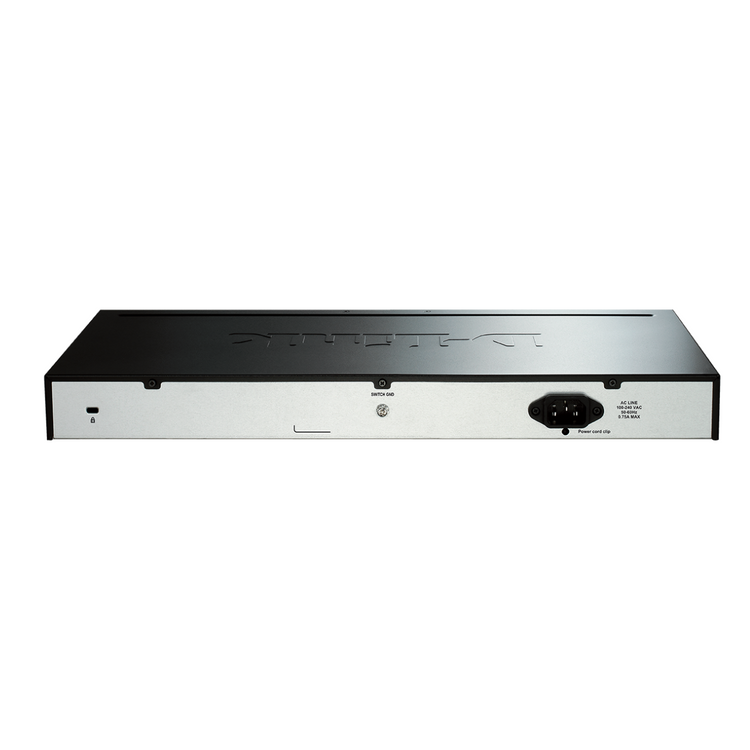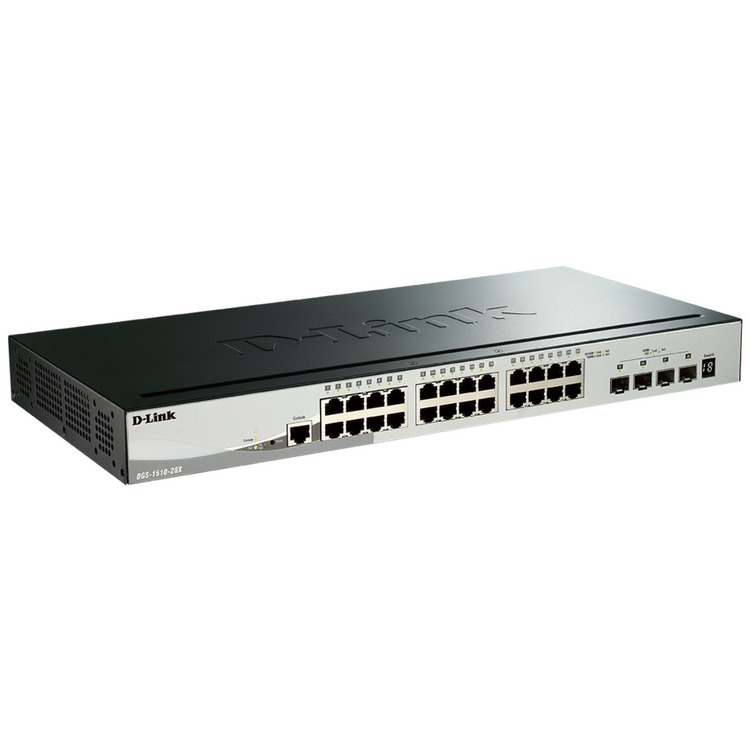 D-Link 24 Port Gigabit Stackable Smart Managed Switch w/ 4 10GbE SFP+ Ports (DGS-1510-28X)
Flexible 10 Gigabit connectivity for SME and SMB environments.
24 x 10/100/1000BASE-T ports

4 x 10G SFP+ ports

Industry Standard CLI, Console Port and Web UI
10G SFP+ Physical Stacking
Stacking: Physical (up to 6 devices), Virtual (up to 32 devices)
Static Routing and MSTP
Lifetime Warranty after registration

NDAA Compliant
The DGS-1510 Series is D-Link's generation of SmartPro switches with 10G port connectivity, making them ideal for deployment in SME/SMB aggregation environments. The DGS-1510 Series provides a reliable and scalable interconnection between core switches and edge switches. Available in 16, 24, or 48 10/100/1000 Mbps port models with additional fiber ports for physical stacking and/or uplinks, the DGS-1510 Series are perfect for any business network environment.
Great for: 

High-Performance Connectivity: Designed for SME/SMB aggregation environments, offering 10G port connectivity for seamless interconnection between core and edge switches.
10G SFP+ Stacking/Uplink Ports:

 

Enables users to create a physical stack with up to 6 units or 288 gigabit ports for high bandwidth and cost efficiency.
Layer 3 Traffic Management: Provides static routing to segment your network, enhancing application performance and network efficiency.
Rich Layer 2 Features:

 

Comes with IGMP Snooping, Port Mirroring, Spanning Tree, LLDP, and more, ensuring stable and high-performance network operations.
Advanced Traffic Classification & QoS:

 

Features like Auto Surveillance VLAN and Auto Voice VLAN optimize VoIP and video surveillance deployments, ensuring uninterrupted service.
Robust Security:

 

Equipped with D-Link's Safeguard Engine, 802.1X port-based authentication, MAC and Web-based access control, and ARP Spoofing Prevention to help protect your network from various threats.
IPv6 Ready:

 

Supports several IPv6 functions for a seamless transition and integration into next-gen networks.
Versatile Management:

 

Offers virtual stacking via D-Link's Single IP Management, a user-friendly Network Assistant Utility, and a robust CLI for centralized management.
Versatile Usage Across Various Settings:
Small Business & SMEs: Ensure rapid communications, seamless file sharing, and a dependable online presence with optimized network performance.
Education - Campus Connectivity: Seamlessly link buildings or departments with high-speed 10G connections.
Retail - In-Store Digital Experience: Support digital signages, POS systems, and inventory management across outlets.
Healthcare - Telemedicine: Facilitate high-quality video calls between medical professionals and patients.
Media & Entertainment - High-quality Streaming: Support seamless 4K/8K video streaming for online platforms.
Transport & Logistics - Smart Ports: Efficiently manage logistics and communication systems within ports.
Specifications:

Stacking: Physical (up to 6 devices), Virtual (up to 32 devices)
Main Port:

 

1000BASE-T Gigabit Ethernet
Uplink Ports: 10GbE SFP+ and SFP
Dimensions:

 

17.36 x 8.26 x 1.73 in. (440x210x44mm) 19" standard racking mount
Weight:

 

4.4 lbs
VLAN:

 

Max static 4K, GVRP, Port-based, Advanced options
IPv6 Support: Yes
Routes:

 

IPv4 - 64, IPv6 - 32
Bandwidth Control:

 

64 Kbps minimum
Encryption:

 

SSH, SSL v1/v2/v3
SNMP Versions:

 

v1, v2c, v3
Operating Temperature: 22 to 122F
Power Consumption:

 

Max 22.3 W, Standby 15.2 W
Fan:

 

1 Smart Fan
Acoustic Noise: 42.7 db(A)
 Package Contents:

One D-Link DGS-1510 Series Switch.
One Quick Installation Guide. 
One AC power cord
One console cable
One power cord cable clip.
One mounting kit (two brackets and screws). 
Four rubber feet with adhesive backing.
Digital copy of the CLI Reference Guide, Web UI Reference Guide, Hardware Installation Guide, D-View module, D-Link Network Assistant, and D-Link Network Assistant Guide.
10G SFP+ Stacking/Uplink Ports
Depending on whether linear or fault-tolerant ring stacking is implemented, users can use one or two 10-Gigabit SFP+ ports to create a physical stack. 6 units or 288 gigabit ports can be configured as a stack using optional direct attach cables to provide high bandwidth with cost efficiency. Users can also easily configure and manage any of the DGS-1510 SmartPro series in a single stack. With 20 Gbps full duplex capabilities, the DGS-1510 offers 10G connectivity to core networks and servers while still maintaining fast data transfer rates.
Layer 3 Traffic Management
The DGS-1510 Series provides static routing, allowing you to segment your network into workgroups and communicate across VLANs without degrading application performance. With these capabilities, you can boost the efficiency of your network by offloading internal traffic-handling tasks from your router, allowing it to help manage external traffic and security.
Extensive Layer 2 Features
The DGS-1510 Series switches are equipped with a complete lineup of Layer 2 features, including IGMP Snooping, Port Mirroring, Spanning Tree, and Link Layer Discovery Protocol (LLDP). The IEEE 802.3x Flow Control function allows servers to directly connect to the switch for fast, reliable data transfer. Network maintenance features include Loopback Detection and Cable Diagnostics; Loopback Detection is used to detect loops created by a specific port or VLAN and will automatically shut down the affected port or VLAN. The Cable Diagnostics feature, designed primarily for administrators and customer service representatives, can determine cable quality and can quickly discover sections of cabling that need to be replaced.
Traffic Classification & QoS
The DGS-1510 Series supports Auto Surveillance VLAN (ASV) and Auto Voice VLAN, which are best suited for VoIP and video surveillance deployments. Auto Surveillance VLAN is a new, industry-leading technology built into D-Link Smart Switches. This technology consolidates data and surveillance video transmission through a single SmartPro switch, sparing businesses the expense of maintaining expensive dedicated hardware and facilities. ASV also ensures the quality of real-time video for monitoring and control without compromising the transmission of conventional network data. The Auto Voice VLAN technology enhances VoIP service by automatically placing voice traffic from an IP phone to an assigned VLAN. With higher priority and an individual VLAN, these features guarantee the quality and security of VoIP traffic. Furthermore, the DSCP markings on Ethernet packets enable different levels of service to be assigned to network traffic. As a result, these voice and video packets take precedence over other packets ensuring uninterrupted VoIP for network users.
Enhance your Network Security
D-Link's innovative Safeguard Engine helps protect DGS-1510 Series against traffic flooding caused by malicious attacks. The series also supports 802.1X portbased authentication, allowing the network to be authenticated through external RADIUS servers.
The DGS-1510 Series supports both MAC and Web-based access control. These provide a user-friendly way to alleviate deployment time, giving customers an effective and efficient authentication choice.
With an Access Control List (ACL), the DGS-1510 Series both enhances network security and helps to protect the internal IT network by screening ingress traffic based on any user defined content. The DGS-1510 Series includes ARP Spoofing Prevention, which helps protects from attacks on the Ethernet network that may allow an intruder to sniff data frames, modify traffic, or bring traffic to a halt altogether by sending fake ARP messages to the network. For added security, the DHCP Server Screening feature screens rogue DHCP server packets from user ports to increase protection from unauthorized IP assignment.
IPv6 Ready
The DGS-1510 Series is IPv6 ready and supports various IPv6 functions such as MLD Snooping, IPv6 ACL/QoS, and IP-MAC-Port Binding (IMPB) to ensure seamless integration of next generation networks. The DGS-1510 Series also supports an IPv4/v6 dual stack function that allows the switch to act as a bridge between IPv4 and IPv6 networks.
Versatile Management
The DGS-1510 Series supports virtual stacking via D-Link's Single IP Management (SIM), allowing up to 32 devices to be managed via a single IP address. This simplifies management of small workgroups or wiring closets while reducing the number of IP addresses needed in your network.
The DGS-1510 Series provides a D-Link Network Assistant Utility and a webbased management interface that enables administrators to easily set up and remotely manage their networks. The D-Link Network Assistant Utility allows customers to easily discover and perform initial setup on multiple D-Link products simultaneously. This greatly reduces the deployment time for services required by network administrators such as device firmware upgrades, configuration backup and restoration, setting IP addresses, or even solution deployment like ASV.
The DGS-1510 Series also supports fully featured Command Line Interface (CLI) and SNMP MIBs. It provides the capability of central management in a large scale network. CLI management of the switches is also available via a console port. With out-of-band manageability, accessing the switch is still possible even if its network data plane is overwhelmed by bulk or malicious traffic.
Energy Saving
DGS-1510 switches are capable of conserving power without sacrificing operational performance or functionality by using D-Link Green 3.0 technology. Using the 802.3az Energy Efficient Ethernet standard, the network will automatically decrease power usage when traffic is low. For environments not fully supporting the standard, DGS-1510 switches offer advanced powersaving settings including port shutoff, LED shutoff, and system hibernation based on custom scheduling profiles. The profiles can also be applied to the PoE switch so that there is no unnecessary power consumption during off hours.
For more information on our business-class solution, reseller pricing, distribution availability, and partner program please reach out to our commercial sales team at 888-354-6574 or solutions@us.dlink.com

D-Link 24 Port Gigabit Stackable Smart Managed Switch w/ 4 10GbE SFP+ Ports (DGS-1510-28X)