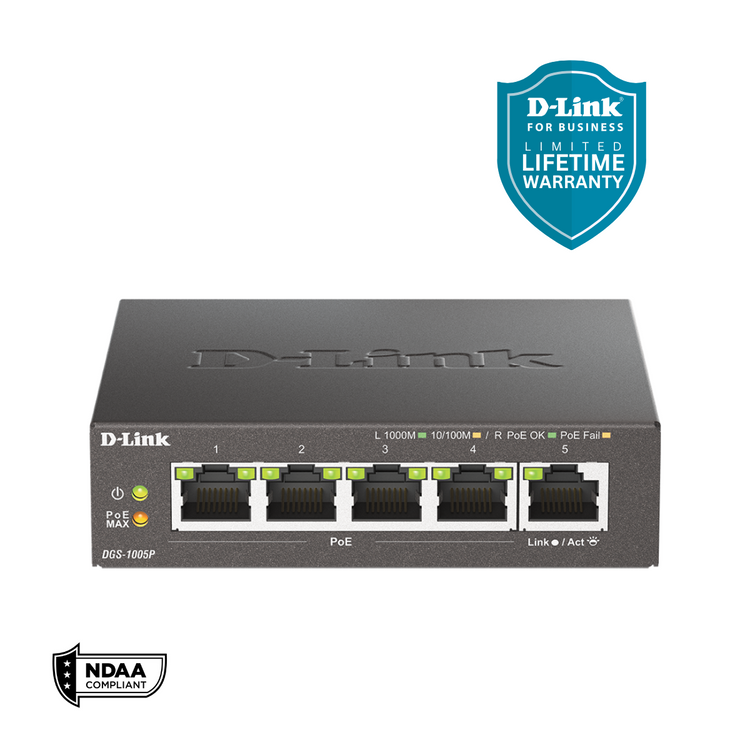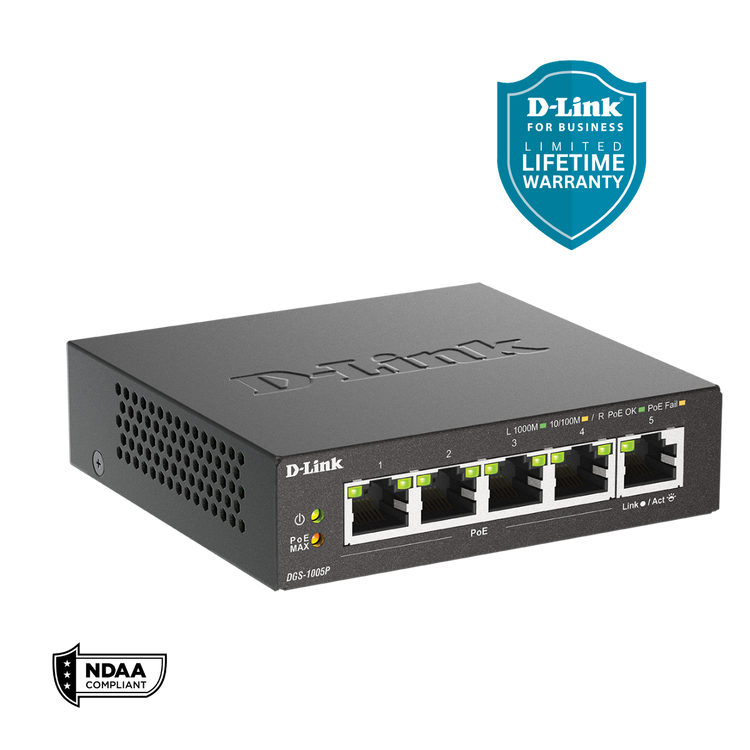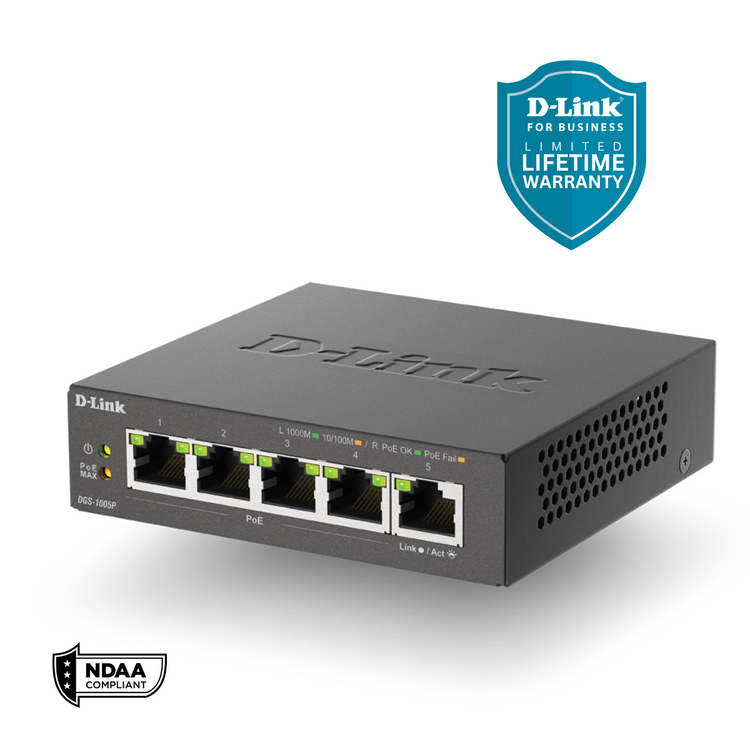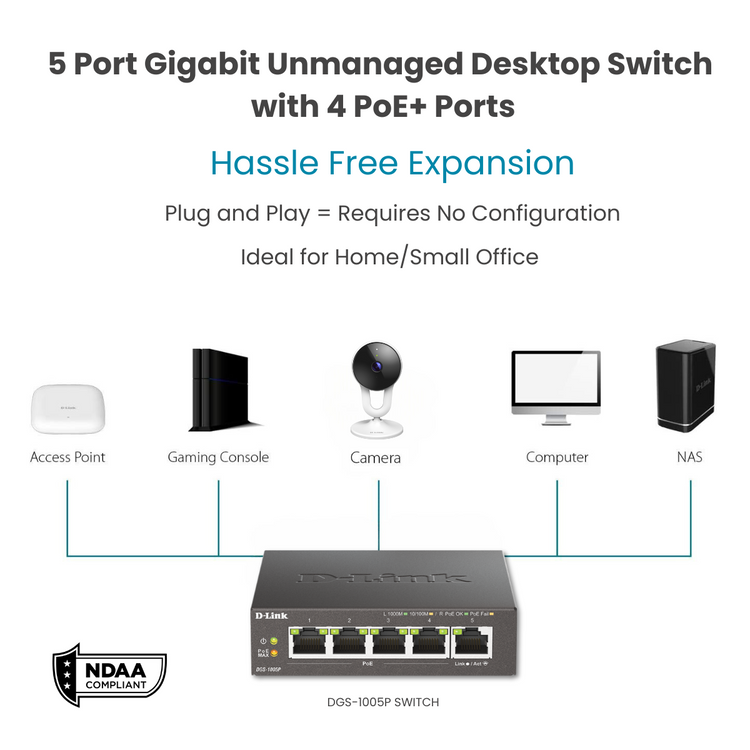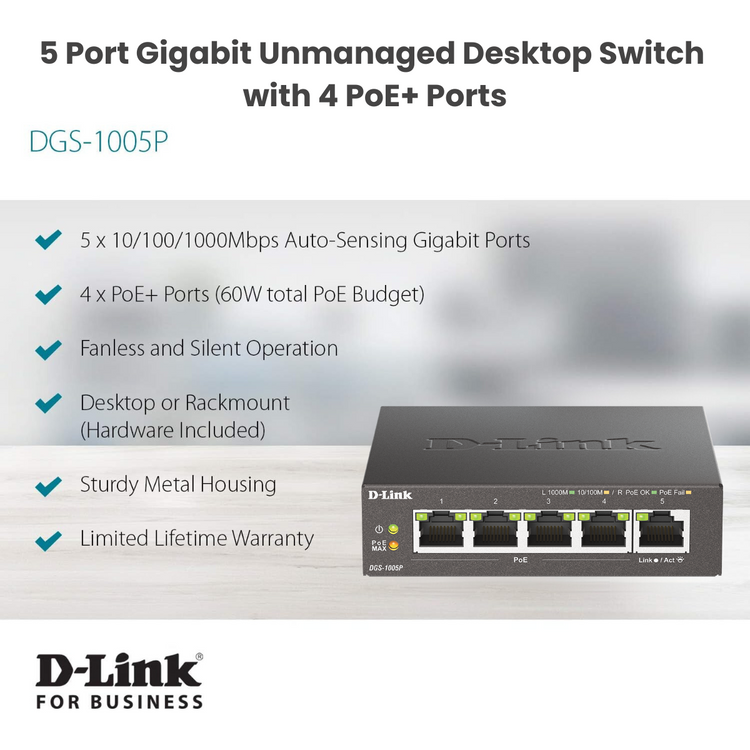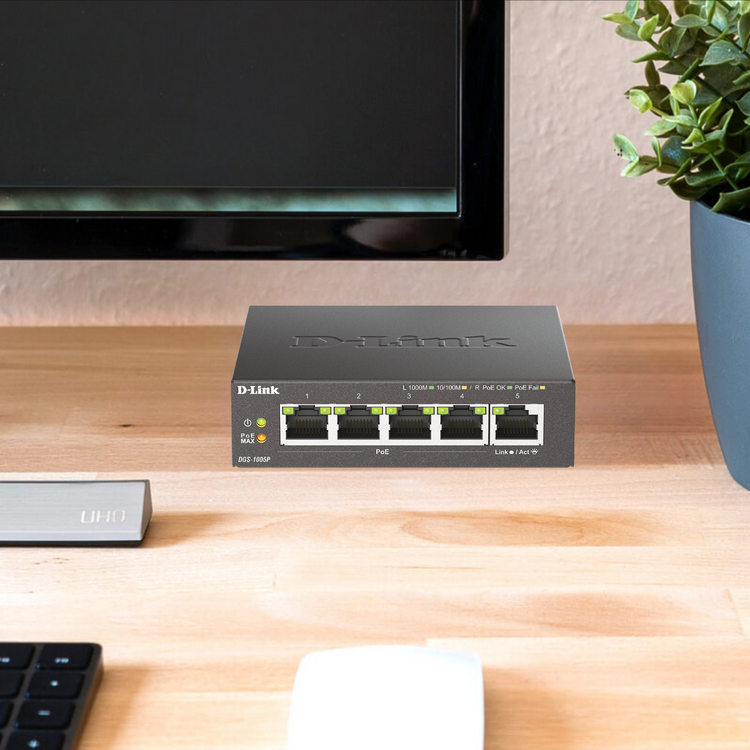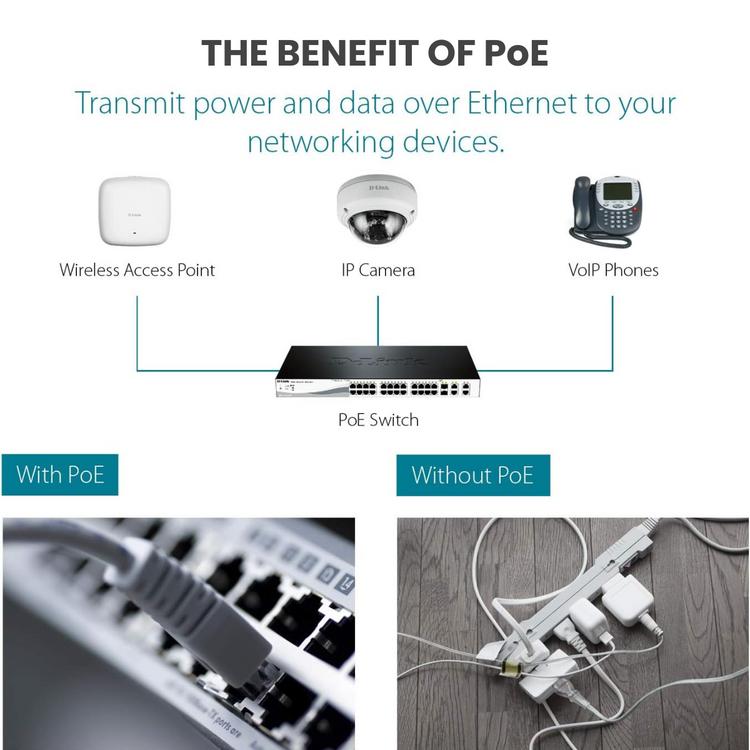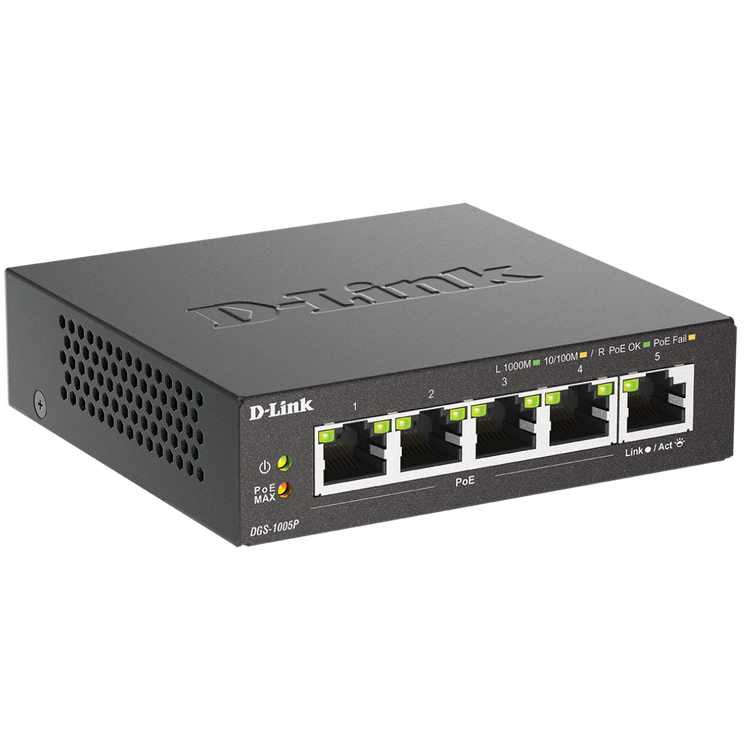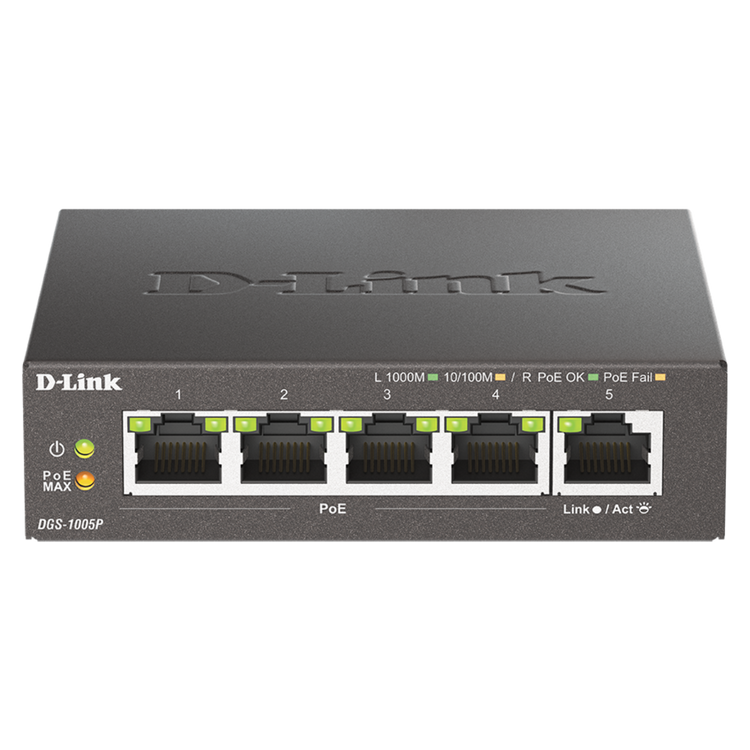 D-Link 5-Port Gigabit PoE+ Unmanaged/Plug and Play (60W Total PoE Budget 4xPort) Metal Compact Desktop Switch - (DGS-1005P)
Click Here for DGS-1005P Switch Data Sheet 
Whether you're setting up a smart home or a robust small business network, the D-Link DGS-1005P has got you covered. NDAA Compliant and backed by a limited-lifetime warranty, this compact and silent-operating switch is perfect for a variety of applications in both smart home and business settings. 
Why Choose the DGS-1005P?

High-Speed Performance
Five Gigabit Ethernet Ports: Experience lightning-fast data speeds up to 1 Gbps. Ideal for lag-free video streaming, gaming, and file transfers. Compatible with legacy 10/100 Mbps devices.
Power Over Ethernet (PoE)
Four PoE Ports:

Supply up to 60W of power across four ports, eliminating the need for extra power outlets and simplifying your network setup. These ports are exceptionally versatile, suitable for powering a range of devices. From business essentials like wireless access points, VoIP phones, and security cameras to smart home must-haves such as Wi-Fi-enabled speakers, smart locks, and network-attached storage.
Durability and Reliability

Solid Metal Housing, No Fans: Designed for longevity and reliable performance, ensuring quiet operation perfect for noise-sensitive environments.
NDAA Compliant: Meets the National Defense Authorization Act standards, suitable for government and corporate use.
Ease of Use
Plug and Play: Hassle-free setup; just plug in your devices and you're good to go.
Auto MDI/MDI-X: Automatically adjusts for straight-through or crossover cables on all ports.
Energy-Efficiency
Low Power Consumption: Operates efficiently, with a power range of 3.12W to 65.5W.
Warranty and Support
Limited Time Warranty: Rest easy with a warranty that gives you added peace of mind.
Perfectly designed for a variety of applications, the D-Link DGS-1005P 5-Port Desktop Gigabit PoE+ Switch offers a versatile and reliable solution for connecting your PoE devices.
Great For:
SOHO/Home Offices: Helps make your home office run smoother with better video calls and faster file transfers. Easily connect a variety of essential devices, from your laptop and printer to your webcam, smart speaker, Access Points, VoIP phone, and even your smart TV.
Small-to-Medium Businesses:  Efficiently manage connectivity for servers, workstations, Point of Sale (POS)systems, digital signage and more.
Educational Facilities: Ideal for powering modern classrooms with projectors and interactive boards.
Internet Service Providers: Offers a reliable and flexible solution for ISPs to manage multiple customer connections, supporting the requirements of both residential and commercial clients.
IoT Devices: Connect sensors, smart vending machines, and more with ease.
Hospitality: Perfect for hotels and restaurants requiring robust connectivity for guest Wi-Fi, payment processing systems, and customer engagement platform
Quick Specs
Dimensions: 105 x 98 x 28 mm (4.14 x 3.86 x 1.10 in)
Weight: 277 g (9.77 oz)
Operating Conditions: Effective under diverse conditions, ranging from 0 to 40 ˚C and 0% to 95% humidity.
Contact Us for Business Solutions
For more on our business-class solutions, reseller pricing, and distribution availability, reach out to our Commercial sales team at
888-354-6574
or solutions@us.dlink.com.

D-Link 5-Port Gigabit PoE+ Unmanaged/Plug and Play (60W Total PoE Budget 4xPort) Metal Compact Desktop Switch - (DGS-1005P)