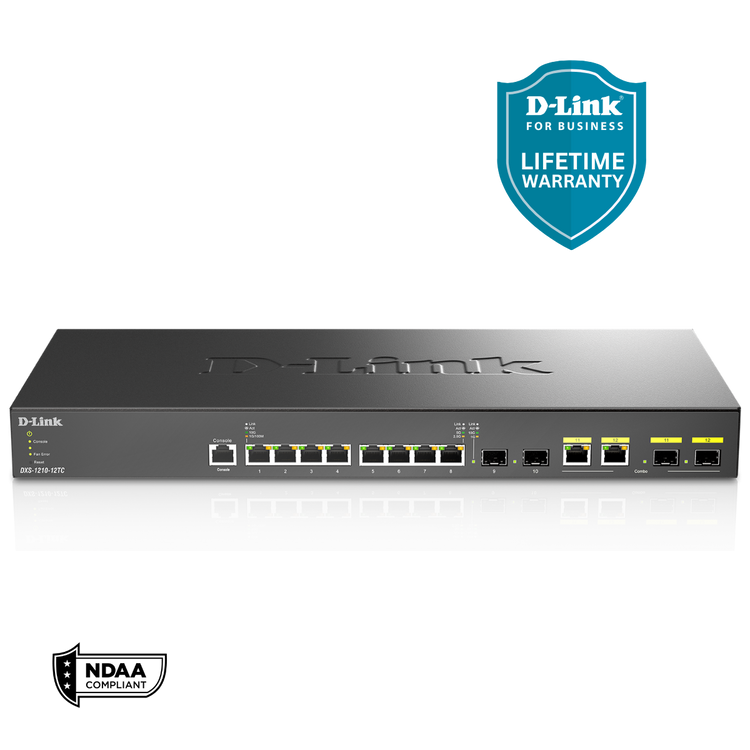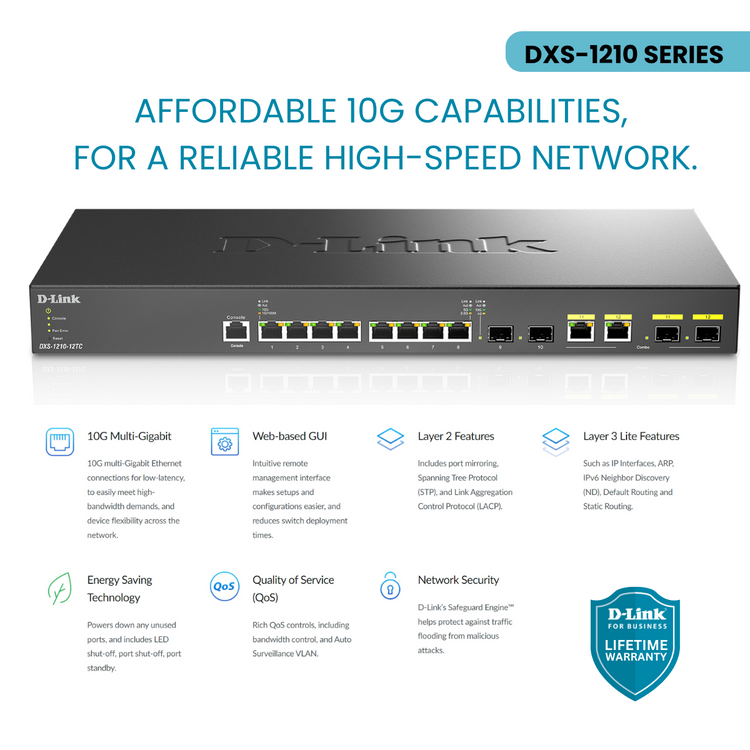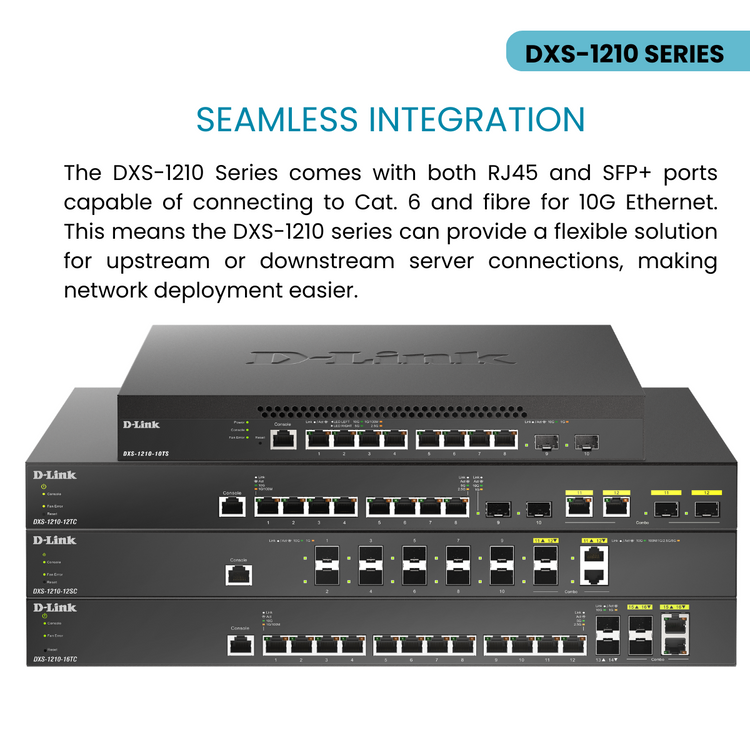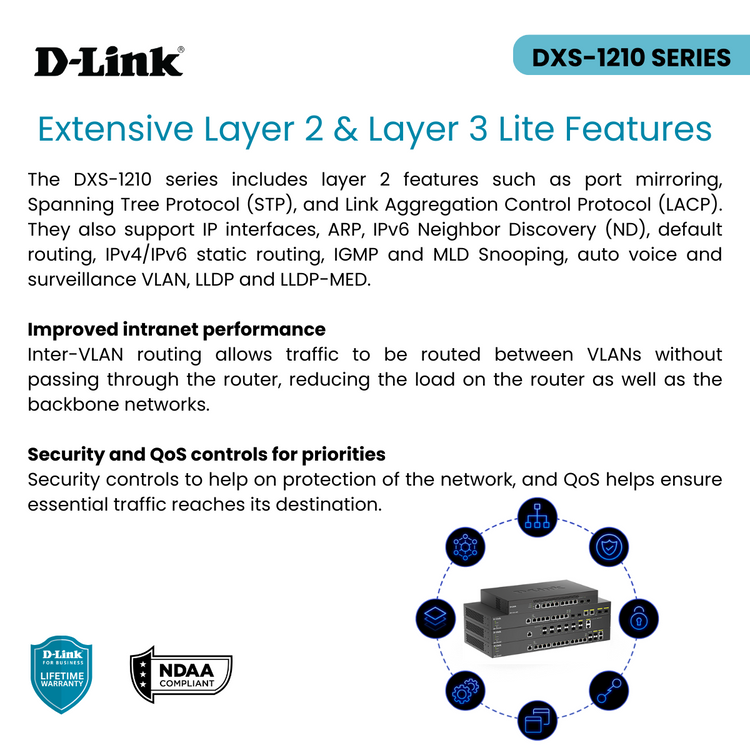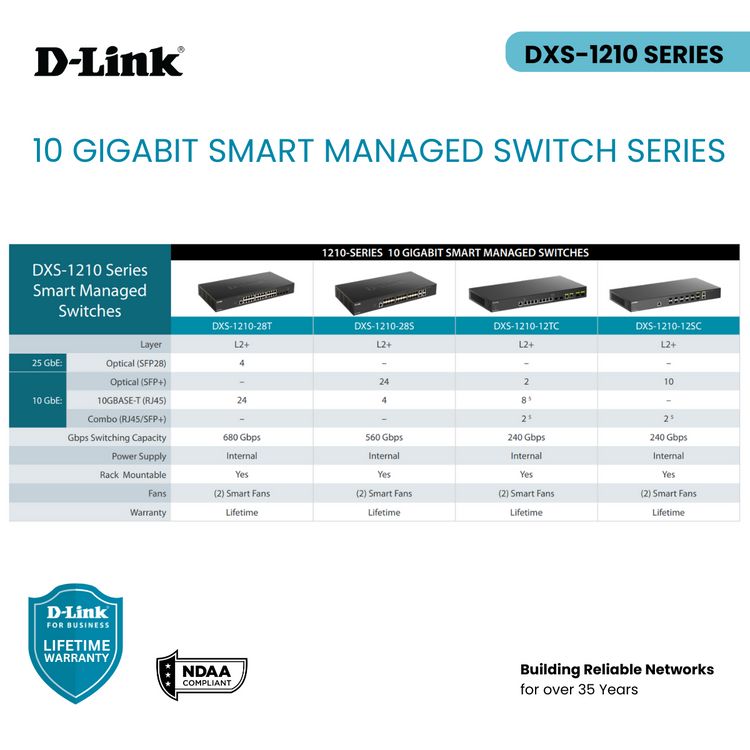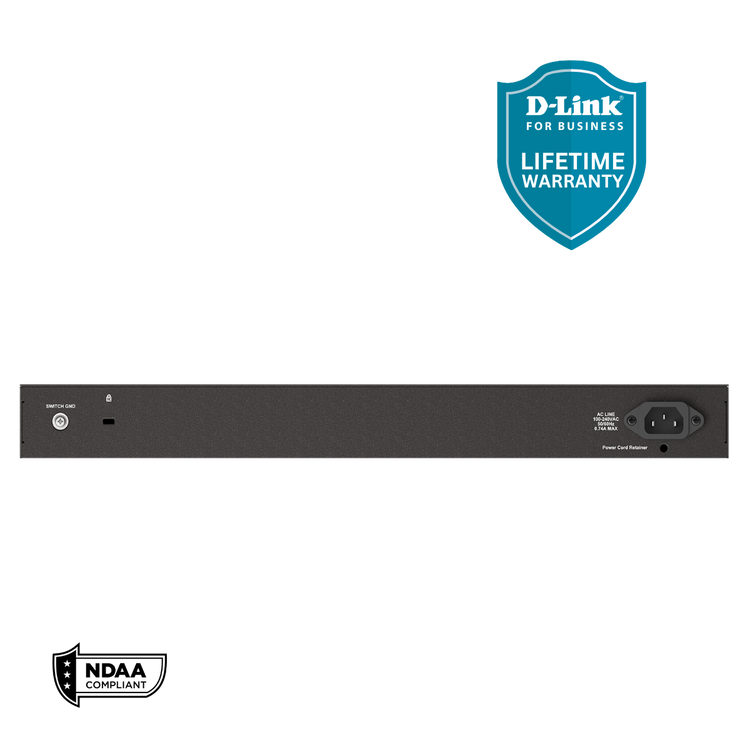 D-Link 12-Port 10 Gigabit Smart Managed Switch includes 8 10G ports, 2 SFP+ and 2 10G/SFP+ Combo Ports (DXS-1210-12TC)
8 x 10GBASE-T ports

2 x 10GBASE-T/SFP+ combo port

2 x SFP+ ports

Advanced security features to help protect your network


Supports a wide variety of management tools and utilities for efficient operation
Overview
The DXS-1210-12TC belongs to the DXS-1210 Series of 10 Gigabit Smart Managed Switches. It's designed to fulfill a variety of business needs, offering powerful and efficient networking solutions in a cost-effective package. With its multiple port types including 10GBASE-T/SFP+ combo ports, the DXS-1210-12TC provides extensive connectivity and deployment options. NDAA compliant and backed by a lifetime warranty.
Key Features
High-Performance Connectivity

10G Multi-Gigabit Ethernet Connection: Supports 100/1000/2.5G/5G/10GBASE-T speeds with auto-negotiation for versatile network applications.

SFP+ Ports: Extra flexibility for uplink or additional connectivity.
Comprehensive Layer 2 and Layer 3 Lite Features
Full L2 Features: Includes Port Mirroring, Spanning Tree Protocol (STP), and Link Aggregation Control Protocol (LACP).

Layer 3 Lite Functions: Provides wired speed inter-VLAN routing, improving overall network efficiency.
Security
Access Control: Employs Access Control List and D-Link Safeguard Engine.

Port Security: Enhanced port security features to help protect the network.
VoIP and Surveillance
Auto Surveillance VLAN: For quality real-time video monitoring.

Auto Voice VLAN: Enhances VoIP service by designating voice traffic to a special VLAN.
Intuitive Management
Web-based GUI: User-friendly interface for effective management.

Full CLI: Advanced CLI for professionals.
Warranty and Services
Technical Specifications
Interfaces: 10 x 100/1000/2.5G/5G/10GBase-T Ports, 2 SFP+, 2 Combo 10G/SFP+

Switching Capacity: 240 Gbps
MAC Address Table: Up to 32,000 entries
Maximum Power Consumption: 59.1 W
Measurement: 

440 mm x 250 mm x 44 mm (17.32" x 9.84" x 1.73")
Additional Highlights
NDAA Compliant: Meets the requirements of the National Defense Authorization Act.

Optional 10 Gigabit Ethernet SFP+ Direct Attach Cables: For extended connectivity options.
Package Contents
DXS-1210-12TC Switch

Power Cable

User Manual

Rack Mount Kit
Great For: 
High-Bandwidth Network Environments: This switch supports 10Gbps Ethernet speeds, making it well-suited for data-intensive environments like data centers, large enterprises, and research facilities.
Aggregation & Versatile Network Expansion: Ideal for aggregating diverse network demands, excelling in high-density, mixed-environment tasks with its multi-gigabit Ethernet and SFP+ combo ports.
Server and Storage Farms: The 10G ports can be beneficial for server-to-server or server-to-storage migrations and communications, where low latency and high bandwidth are essential.
Hybrid Connectivity Needs: With both BASE-T and SFP+ ports, it offers the versatility to connect both copper and fiber interfaces.
Advanced Network Features: With features like VLAN support, QoS, and security options, this switch can be easily integrated into a more extensive, managed network, offering the ability to segment traffic efficiently and prioritize certain types of data over others.
Small to Medium-sized Businesses (SMBs):

 Its range of management options balances advanced features and cost, making it a suitable choice for small to medium-sized businesses in need of sophisticated networking solutions without a high cost.
For more information on our business-class solution, reseller pricing, distribution availability, and partner program please reach out to our commercial sales team at 888-354-6574 or solutions@us.dlink.com


D-Link 12-Port 10 Gigabit Smart Managed Switch includes 8 10G ports, 2 SFP+ and 2 10G/SFP+ Combo Ports (DXS-1210-12TC)