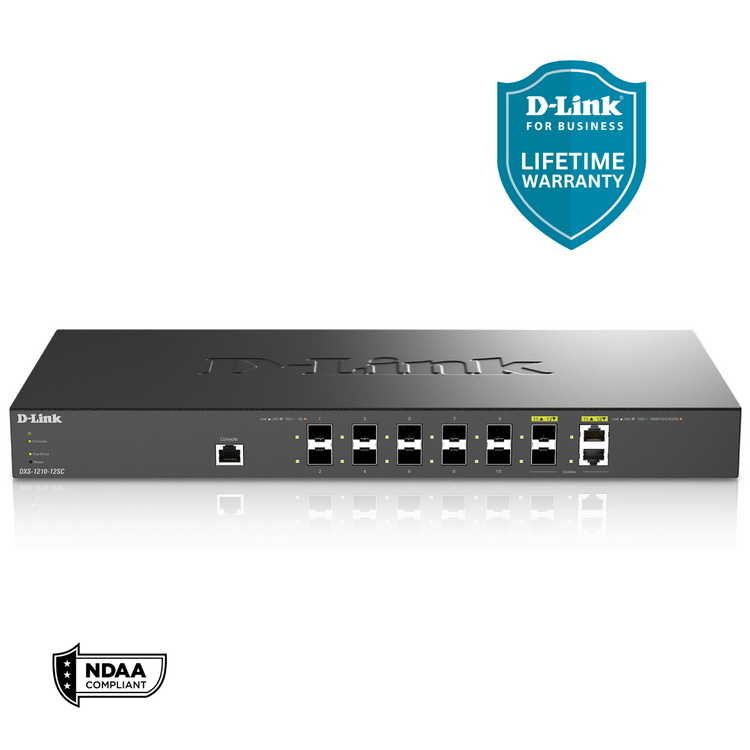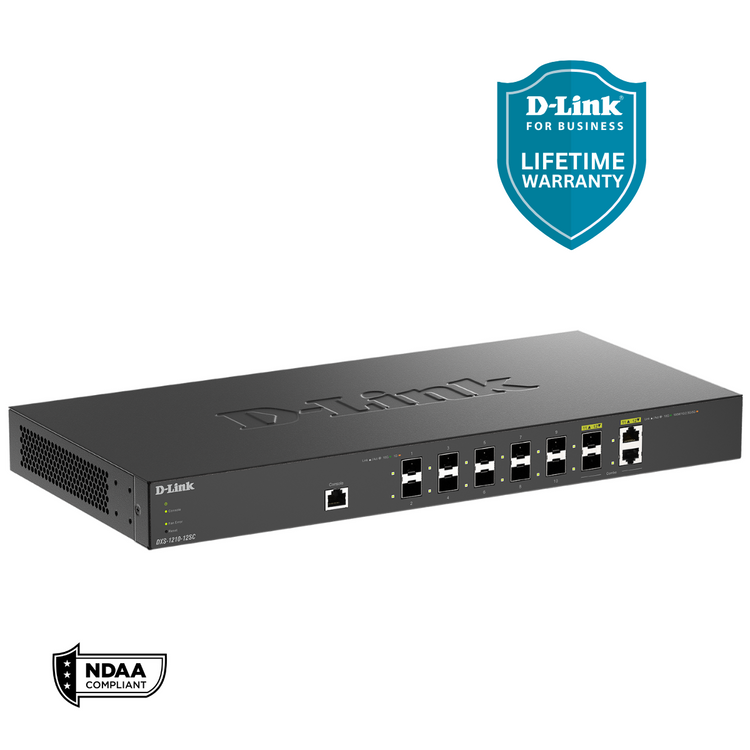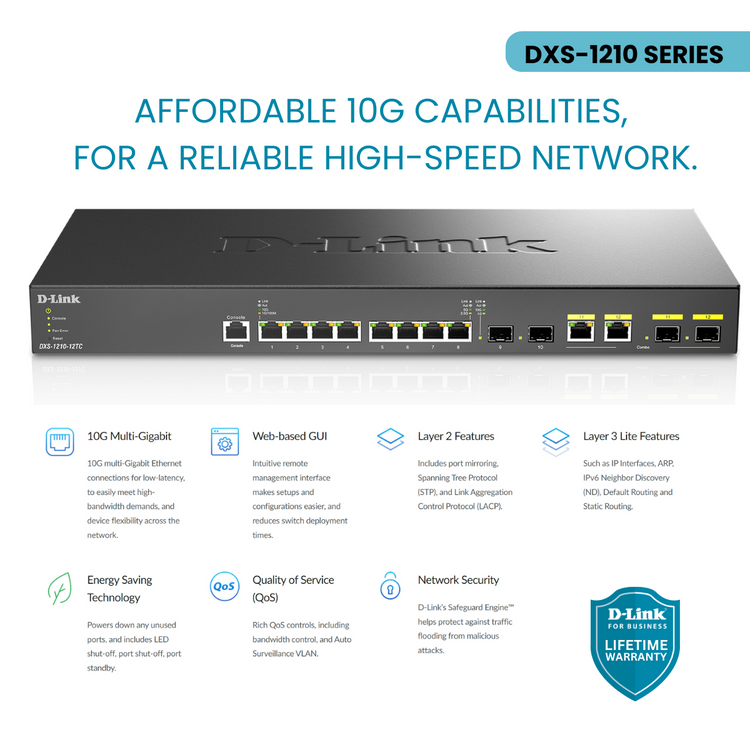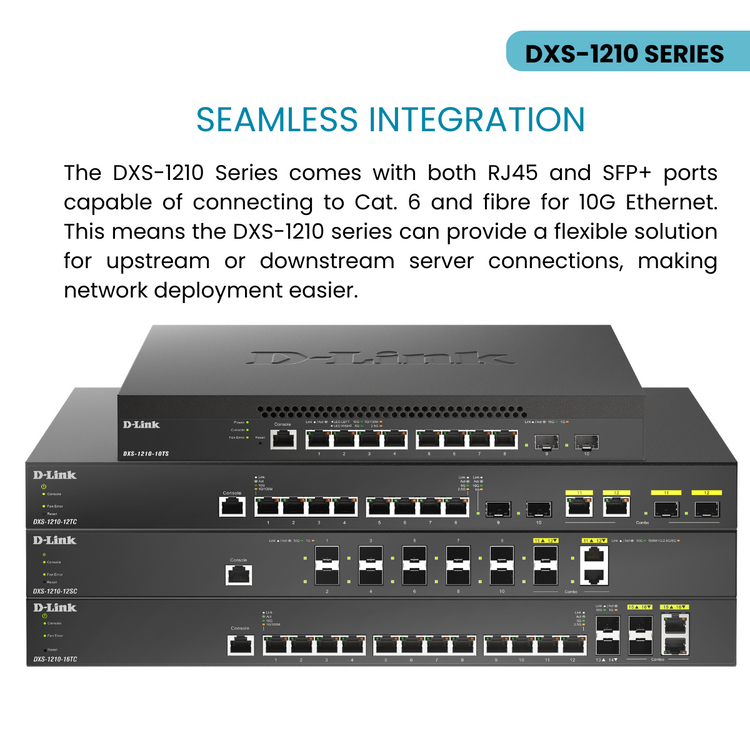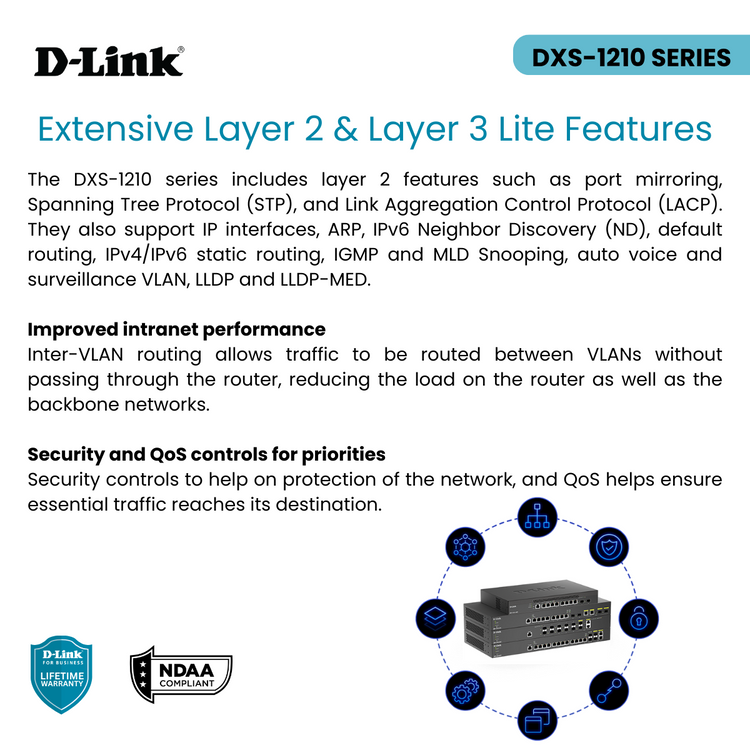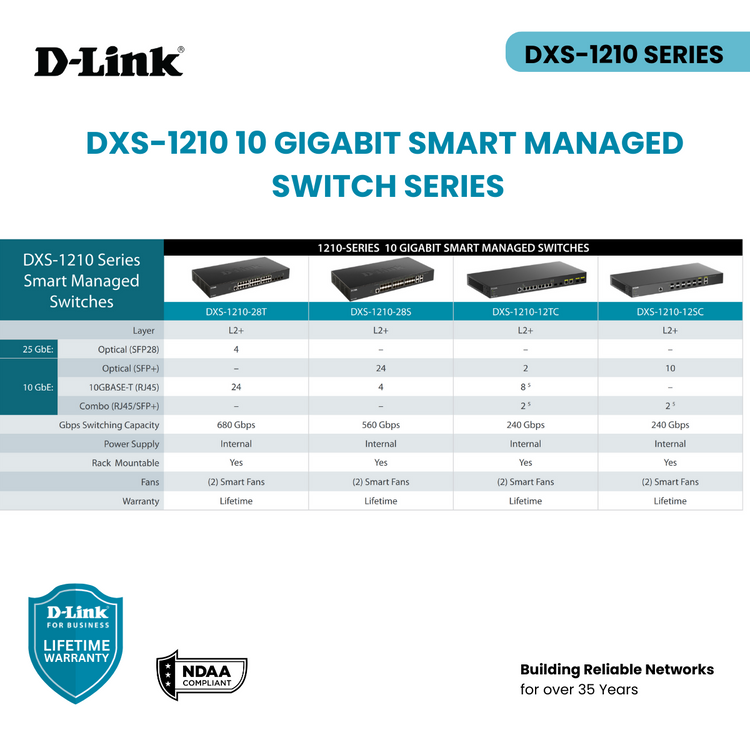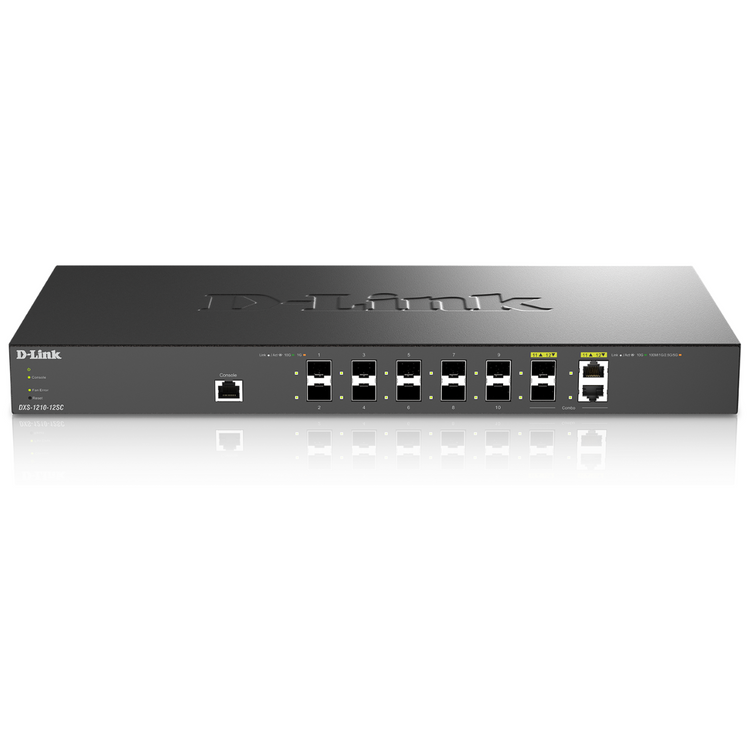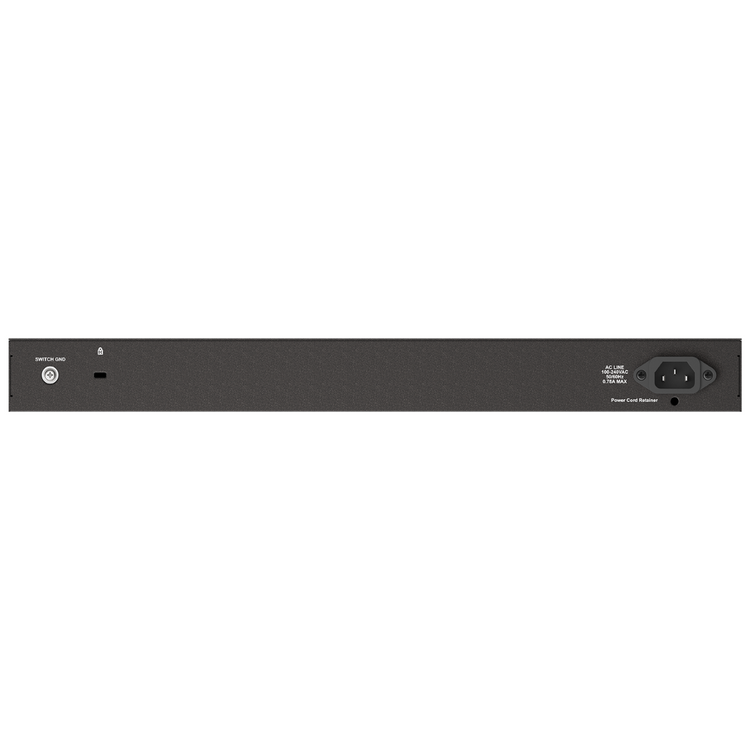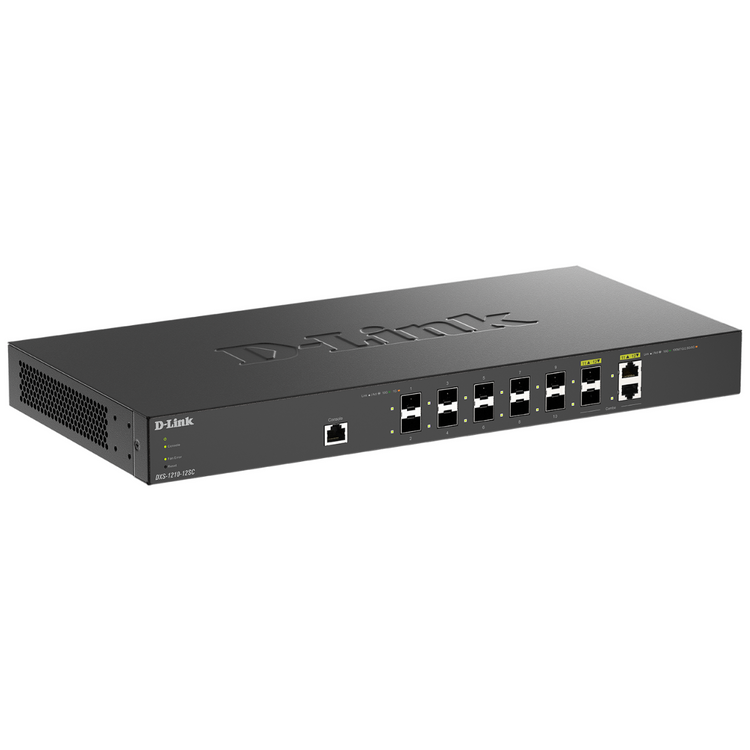 D-Link 12-Port 10 Gigabit Smart Managed Fiber Switch Including 10 SFP+ Ports, 2 10G/SFP+ Combo Ports-(DXS-1210-12SC)
10 x 10G SFP+ ports

2 x 100/1000/2.5G/5G/10G BASE-T/SFP+ combo ports

Advanced security features to help protect your network

Supports a wide variety of management tools and utilities for efficient operation
Overview
Belonging to the DXS-1210 Series, the DXS-1210-12SC is designed for high-speed, long-distance fiber-optic connections. Whether operating on sprawling campuses, large-scale industrial settings, or small businesses aiming for future growth and scalability, this model helps ensure a reliable and consistent network performance. Especially significant for small businesses, the DXS-1210-12SC provides a cost-effective solution without compromising on features or speed. NDAA Compliant and backed by a Lifetime Warranty.
Key Features

Optimized for Fiber Connections: With a majority of SFP+ ports, this switch is designed for long-range, high-speed connections.
High-Performance Connectivity: Offers multi-gigabit Ethernet speeds with versatile connectivity options.
Comprehensive Network Features: Robust Layer 2 and Layer 3 Lite features help ensure the network runs efficiently and reliably.
VoIP and Surveillance: Dedicated VLANs for video and voice helps for optimal service for critical communications.
Intuitive Management: Features both a user-friendly web GUI and an advanced CLI for versatile network management.
Warranty and Services: Lifetime Warranty and NDA Compliant 
Technical Specifications

Switching Capacity: 240 Gbps

MAC Address Table: Up to 32,000 entries
Maximum Power Consumption: 27.4 W
Measurement: 440 mm x 250 mm x 44 mm (17.32" x 9.84" x 1.73")
Weight: 2.718kg (5.99lbs)
Great For
High-Speed Requirements: Data centers or businesses that require rapid data transfer will find the 10 Gigabit speeds optimal.
Aggregation & Versatile Network Expansion: Perfect for aggregation across extended distances, leveraging SFP+ fiber-optic connections for consistent, high-speed data transmissions over expansive areas.
Extended Reach:

The DXS-1210-12SC is perfect for expansive campuses and industries where units or facilities are spaced far apart, leveraging its SFP+ configuration for high-speed, long-distance data transmission with its fiber optic capability.

SMBs Seeking Fiber Solutions: With its cost-effective approach and advanced features, it's a prime choice for SMBs that prioritize reliability and future scalability.
For more information on our business-class solution, reseller pricing, distribution availability, and partner program please reach out to our commercial sales team at 888-354-6574 or solutions@us.dlink.com

D-Link 12-Port 10 Gigabit Smart Managed Fiber Switch Including 10 SFP+ Ports, 2 10G/SFP+ Combo Ports-(DXS-1210-12SC)