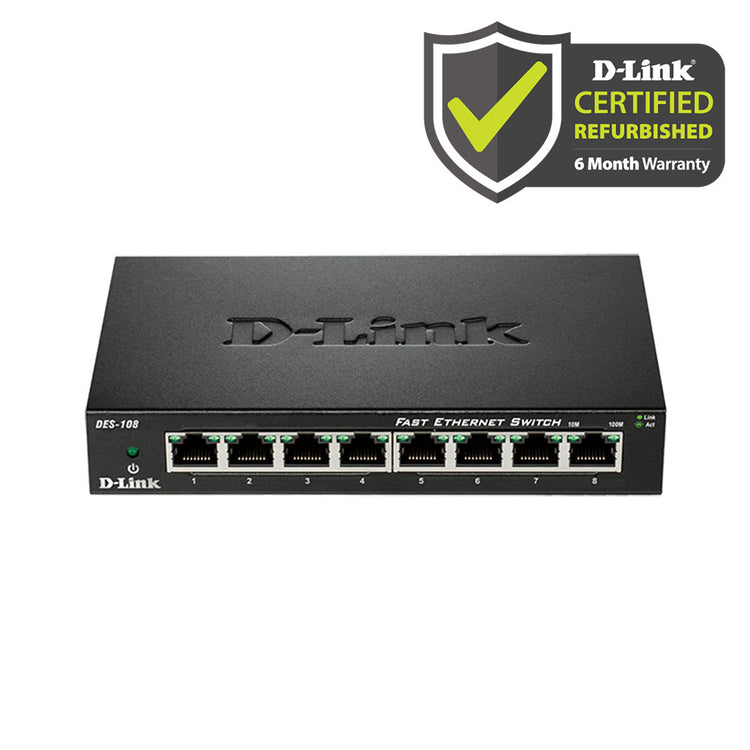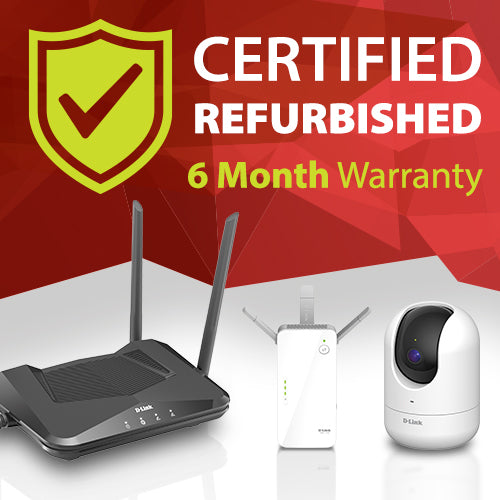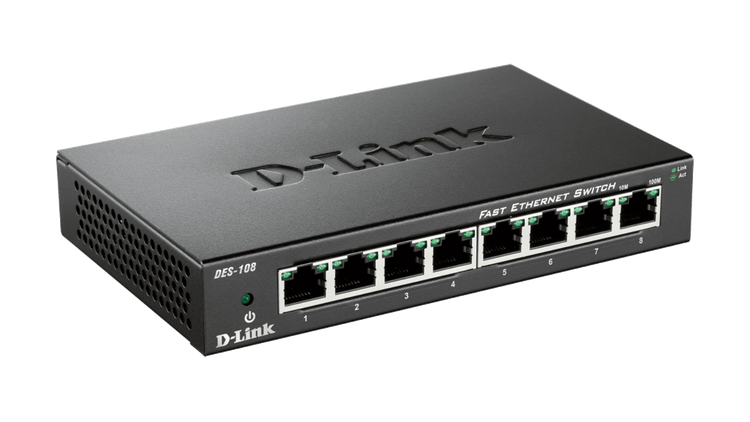 [Certified Refurbished] D-Link 8-Port Fast Ethernet Unmanaged Desktop Switch - (DES-108/RE)
[Certified Refurbished]
This

 

device has been reconditioned by D-Link US (D-Link Systems, Inc.).
The device has been upgraded to the latest device firmware and all features tested.
All parts have been checked for good functionality, and any missing or bad parts have been replaced.  
Depending on the availability device may get original packaging or updated to brown box safe for shipping.
The device comes with a 6-month warranty.
D-Link's DES-108 Fast Ethernet switch provides a cost-effective way for SOHO and SMB to create a small network and connect computers, wireless Access Points, IP cameras, network printers and other Ethernet devices quickly and easily without complicated configurations. This switch comes with 8 Fast Ethernet ports with an auto-sensing function to detect the maximum speed of the connected devices, allowing you to run your network with the best possible performance. Its fanless design makes the DES-108 completely silent so it is ideal for offices, libraries or meeting rooms.
The DES-108 8-Port Fast Ethernet Unmanaged Desktop Switch is a 8-port 10/100 Mbps Fast Ethernet switch that allows you to quickly set up a wired network. Connect the DES-108 to multiple computers together to share files and folders, or connect it to a router to share an Internet connection.
Auto-Sensing 10/100 Ports
The DES-108 uses auto-sensing 10/100 Mbps ports, allowing a small workgroup to flexibly connect to Ethernet and Fast Ethernet devices to create an integrated network. These ports detect the network speed and auto-negotiate between 10BASE-T and 100BASE-TX, as well as between full and half-duplex, allowing you to get the maximum speed possible for each device connected to your network.
Auto MDI/MDIX Crossover
All of the ports on the DES-108 support automatic MDI/MDIX crossover, eliminating the need for crossover cables or uplink ports. Each port can be plugged directly to a server, hub, router, or switch using regular straight-through twisted-pair Ethernet cables. In addition, the DES-108 features multiple front, easy-to-access Ethernet ports with two colour LED indicators per port to easily distinguish link status.
Flow Control for Secure Transmission
When a port reaches its receiving buffer capacity, the 802.3x flow control feature activates to minimize dropped packets. By minimizing the number of dropped packets, the switch provides a more reliable connection for all of your connected devices while surfing the web, playing games, or accessing media.
Think Green
The DES-108 is a plug-and-play networking switch that offers D-Link's Green Technology to save energy and reduce heat, which in turn extends product life without sacrificing performance or functionality. The switch supports IEEE 802.3az Energy-Efficient Ethernet (EEE) which detects when a connected computer is shut down or when there is no Ethernet traffic, in which the switch will proceed to power down the idle port, saving a substantial amount of power.

[Certified Refurbished] D-Link 8-Port Fast Ethernet Unmanaged Desktop Switch - (DES-108/RE)