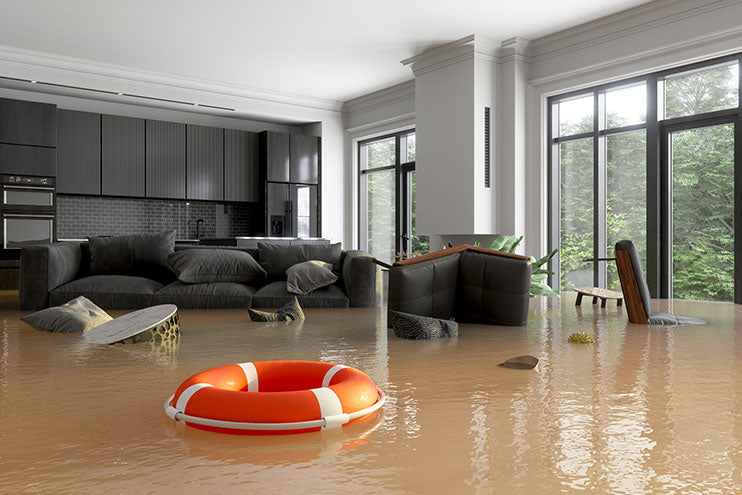 If you've ever overfilled a bathtub, left a freezer door open to defrost, or dealt with a flood from a ruptured pipe, you know firsthand how costly water damage can be.
According to the Insurance Information Institute, 1 in 50 homeowners make water-related claims every year, with an average claim of $10,849. The industry reports about 14,000 water damage claims a day, unrelated to weather, amounting to almost $13 billion a year. Unfortunately, insurance companies often deny claims caused by undetected water issues.
Smart Home Water Leak Sensors Provide Peace of Mind for Your Home or Business
Water damage happens for a variety of reasons. Broken seals, loose connections, burst pipes, clogged toilets, and roof leaks can be extremely destructive over time. Mold, mildew, staining, blistering, dry rot, or worse, often occurs before anyone notices the problem.
The U.S. Environmental Protection Agency (EPA) states that slow leaks in our homes can be wasting up to a trillion gallons of water a year which can cost you plenty on your utility bills.
Just as fire alarms can save lives and prevent extreme fire damage, smart home technology can help with early water detection. By installing water sensing products in your home or business, and inspecting your property regularly, you can take action quickly, prevent thousands of dollars in water damage and conserve water in the process.
Water Leak Detection Comes in All Shapes, Sizes, and Price Points
Water leak sensors vary widely, from systems professionally installed on your main water line, to inexpensive endpoint sensors placed strategically throughout your home or office. Limited-feature water detection solutions can start at under $20 while the more sophisticated units can cost hundreds of dollars.
Whole-home units are installed directly on your main water line. Most people, inexperienced with plumbing connections, will want to have these units professionally installed. There are temperature restrictions for outdoor installation, so they may not be appropriate for areas that experience extreme weather conditions.
Endpoint sensing units may sit directly on the floor where the sensor feet can detect water, or they may be wall-mounted with cables or sensing discs attached. Some cables are waterproof while others will detect moisture along their full length.
1. Whole-Home Leak Detection Installed on Your Water Line
With a smart, motorized valve system, you can monitor your water flow rate, pressure, and temperature. You can set parameters and the system will learn and monitor your water use habits.
If you use more water than usual, or if your water flow or pressure is out of sync, you'll be notified. Texts or app notifications will alert you to water issues and automatically shut water off when leaks are detected, to prevent further damage. You can also turn water on and off using the app.
Some sophisticated models can detect the smallest hose, valve, or faucet leak and inform you before damage or excess consumption occurs. Notifications provide suggestions for finding the leak, based on typical water usage, but you'll need to walk through your home to pinpoint the exact location.
These systems may require subscription fees to access all the features, but you may also receive insurance discounts if you have water detection and shut-off installed. Additionally, the information about your water consumption can help you make household changes to conserve water.
If you own a business, vacation property, or short-term rental where you can't be present or respond quickly, you may appreciate a more expensive unit like The Flo by Moen or the Phyn Smart  Water Assistant.
2. Endpoint Water Detection Installed Where Leaks Occur
For most homes, if you live on the property and can respond to notifications quickly, an inexpensive endpoint system is sufficient. Leak detectors in laundry rooms, water heater closets, bathrooms, basements, under sinks, and under water-producing appliances will alert you at the first sign of water so you can respond before damage occurs.
While endpoint sensors may not be able to detect a pinhole leak in a wall-enclosed pipe, they will pick up leaks in common areas if water touches the sensors.
Units come with alarms, led lights, smartphone notifications, or a combination of these so you'll never miss a warning. During the device setup, you'll assign a name or a zone to each installed sensor, so you'll know exactly where the problem is occurring.
Features Available on Today's Home Water Sensor Units
When shopping for smart water leak detectors, you'll need to decide which features are most important for your property:
Water Sensor
Wi-Fi Functionality
Remote Management
Smart Home Integration
Humidity Detection
Temperature Monitoring
Automatic Water Shut-Off
Automatic Appliance Shut-Off
Movement Notification
AC or Battery Powered
Battery Backup
Multiple Mode Alerts
Water Pressure Gauge
Water Consumption Monitor
Diagnosis Capabilities
While the bells and whistles can be captivating, the reality is most people don't need them all. The D-Link water detector is effective, budget-friendly, and simple to use. With wireless networking capability and long-lasting batteries (up to 18 months), you won't need to connect to a hub or power source.
Manage remotely with the mydlink app or your favorite virtual assistant (Google or Alexa). The built-in siren and real-time push notifications alert you of leaks. The unit is wall-mountable with an extra 5.9 ft cable, so you can easily place it anywhere water might appear.
From budget-friendly to elaborate, there is a smart water leak detection solution for every need. Many devices can be integrated with other smart home products such as security cameras, smart locks, and smart thermostats so you can monitor all your devices in one place. Advanced features will vary according to your budget but no matter which version you choose, you'll have peace of mind and protection from costly water damage. A small device can save you a fortune!