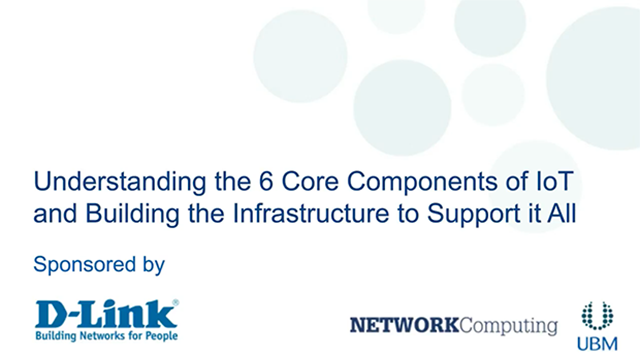 Watch NetworkComputing and D-Link's new webinar, "Understanding the 6 Core Components of IoT and Building the Infrastructure to Support it All" on demand now!
The Internet of Things (IoT) is one of the fastest-growing areas in the technology industry, enabling companies to connect with a multitude of devices, users and systems, and to learn from the data they collect. In fact, recent research has shown that over 60% of organizations have or are already planning on implementing an IT solution, and more and more business leaders are understanding the immediate requirements around IoT deployment.
However, what are the biggest challenges in actually implementing and supporting these initiatives? IoT projects and applications can't deliver quantifiable business benefits unless enterprises first create a reliable, secure IT infrastructure to support the hundreds or thousands of IoT endpoints and the tide of data they generate.
Watch the webinar to get:
An understanding of all the issues around IoT
Details around the six core components of IoT
Real-world IoT use cases including healthcare, manufacturing, and the modern enterprise business. 
A Deep dive into how to secure each IoT component, how to prepare for an IoT-rich future, and what this means for your infrastructure.
Click here to watch on-demand!