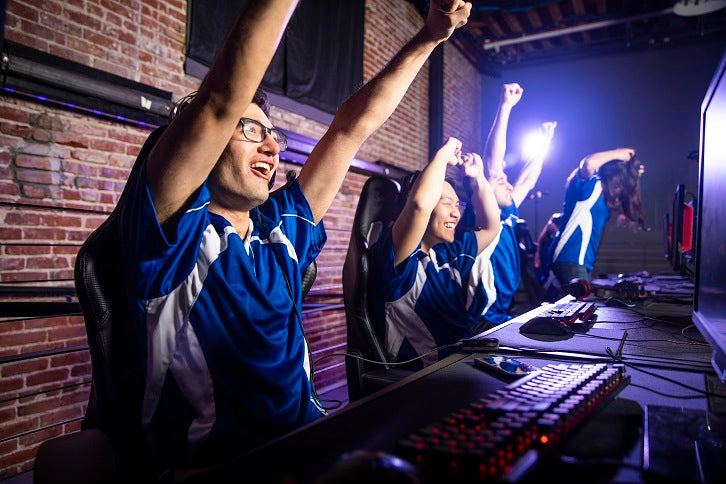 In 2015, the Santa Ana Esports Arena, located in Southern California, opened with seats for 880. The first of its kind, the company Esports Arena, has since opened more than a dozen other esports arenas across the country as well as rolled out an 18 wheel, 35-ton semi-trailer that hosts a state-of-the-art mobile arena with a competition stage and full production facility, including an interactive caster studio, social media center, and VIP lounge.
Last year, the popular esport conference BlizzCon drew 40,000 fans to the event and transmitted the event out globally in a number of different languages. And this year, even South by Southwest (SXSW), one of the world's largest tech festivals, is getting in on the action and hosting an SXSW Gaming Expo where attendees can explore, play, and compete in esports.
While much of the attention at these events is on the games, the demand for constant connectivity and zero latency makes an esports arena a high pressure, high stakes IT environment. It also makes network switches not just a critical component of a successful esports event – but the most valuable player (MVP).
"Network switches are the connectivity portion of any esports arena," notes Lewis Washington, Inside Account Channel Manager for D-Link. "They're involved in every aspect of production, including the delivery of content to any IP streaming service."
However, simply adding switches to your esports arena doesn't guarantee zero-latency or connectivity at all times. The capacity demands on your network, the number of access points and devices that will be connected, and how many players will be playing at once all factor into what network switches you should use and how to utilize those switches to ensure optimal performance.
Whether running a small esports program, setting up a mobile venue, or building out a large esports arena, here are some tips that can help optimize the management of network switches to ensure you have a successful event.

The need for constant connectivity and zero latency makes esports arenas high pressure, high stakes IT environments
Use a single switch vendor throughout your network
If your network currently has multiple switches from multiple brands, it can add to the complexity of the networking environment and make troubleshooting issues more challenging. At the Santa Ana Esports Arena, they moved to using D-Links Gigabit Stackable Smart Managed Switch with 10G (DGS-1510-52XMP), which helped streamline their IT environment.
This is because when one vendor provides all switches, it simplifies the IT environment by providing a consistent user interface as well as eliminates the pain point of having to request troubleshooting assistance from multiple providers. It also puts clear ownership of any issues on the vendor whose network switches you're using throughout your network.
Use switches that match your capacity requirements
Consider the speed requirements on your primary access ports and your uplink ports as well as the overall demand on the network. For most smaller esports arenas, 1Gb switches will typically be able to handle the streaming capacity of the venue. However, if you'll be streaming 4K or if the arena is quite large, a 10Gb switch may be better suited to handle the capacity.
Use wired switches
If you're considering a wireless network for your esports arena — don't. Wireless connections are inherently less reliable. Wired connections provide less latency, lower ping rates, constant connection, and increased speeds compared to wireless connections.
Use POE (Power over Ethernet) for remote connections
In mini esports locations, remote switches with PoE that provide power delivery can be an excellent choice. For example, Esports Arena has branched out to hosting remote mini sports arenas in Walmart stores. By using PoE switches, they can use a centralized switch to deliver power to each terminal someone is playing on. This reduces the need to have multiple outlets for power.
Build in redundancy
Make sure to set up your switches so you won't see lag and won't be reliant on a single switch. By stacking switches, you can allow multiple switches to connect to each other to behave as a single switch. The benefit with this approach is that it creates a single management interface versus multiple interfaces if you don't physically stack switches. This builds in resiliency, because if one switch in the stack fails, another switch can take over.
Diagnose all potential chokepoints
You need to identify where your network might be slowing down and then minimize and remove those bottlenecks. For example, if a 1Gb link is saturated, consider LACP or some form of link aggregation to eliminate the issue.
Use different switch technologies to prevent network disruption
For further optimization, utilize switch technologies that can improve performance and prevent network slow down.
Link aggregation

 

allows your network to support higher amounts of traffic at higher speeds.
Duplex ring stacking

 

increases the switches' switching capacity, port density, and redundancy while also providing scalability, reliability, and central management.
10Gb uplinks

 

enables bandwidth expansion by sharing bandwidth across all the end devices connected to the access switch regular ports.
Loopback prevention

 

protects the network against disruption from loops by shutting down the port that receives the same packet.
VLANs

 

isolate broadcast domains from other VLANS, giving you the ability to split up a switch as a way to achieve the same isolation, security, and performance benefits of using separate switches.
Ultimately, every esports networking environment is unique. Using a reliable switch vendor with a high level of technical expertise can help ensure that you can quickly get your esports arena's network up and running. This also allows you to feel confident that its optimized to eliminate latency and manage capacity while having built-in redundancy to ensure constant connectivity.