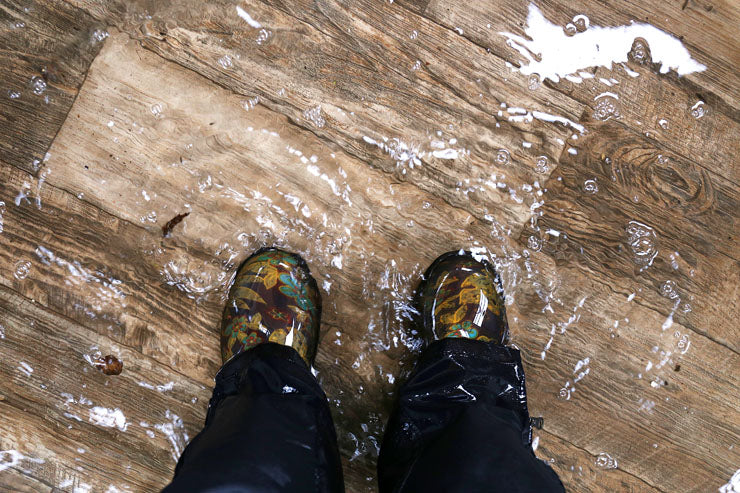 If you've experienced the effects of sudden or prolonged water damage, you know how expensive repairs and restoration can be. Add that to the cost of accommodation during repairs and the hassle of dealing with insurance companies, and you'll appreciate the value of prevention even more.
Water seeps into buildings through cracks in foundations, sump-pumps malfunction, pipes burst, and appliances leak. Whatever the water source, if you need to rip up carpets, replace flooring, or deal with mold issues, restoration can easily cost tens of thousands of dollars. In addition, if damage happened because of a leak that went undetected, your insurance may not even cover it.
We don't think twice about placing smoke alarms and fire extinguishers in several rooms in our homes and businesses. Fortunately, we can also prevent water from ruining our homes, and water detection products are flooding the market.
Types of Water Leak Detection
The type of water leak detection you choose will depend on your home configuration, your budget, and the features you need. Essentially, there are two main products for water detection:
1. Water Line Solutions
Some water leak detection units can be installed directly on your main water line to monitor water pressure, flow rate, and temperature.  High-end units can also detect changes in your water use habits that signify leaks or unexpected running water and can be programmed to turn water off automatically when something isn't functioning the way it should.
2. Point of Use Solutions
In contrast, D-Link and other companies manufacture end-point units that are very affordable, easier to use, and highly effective at catching water leaks where they occur. Simply place connected sensors around your home or business, wherever water is likely to appear, such as under sinks, next to water-connected appliances, and on basement floors.
With D-Link's WiFi water sensor, you can set up and name multiple devices in the mydlink app, so when you receive notifications, you can locate the problem quickly and respond before extensive damage occurs.
Sophisticated water line systems often need to be professionally installed and may require subscription services. However, if you own vacation or rental properties where you can't monitor and respond to water issues quickly, these systems are ideal.
While they can provide excellent information about your home's water usage, the bells and whistles and extra cost won't be necessary for every situation. For most homes and small businesses, end-point sensors offer an affordable, convenient solution.
3. Affordable Smart Home Water Leak Detection
Looking around your home, office, and community, you can likely spot various IoT devices connected to the internet and sharing data. You likely already have an existing smart home ecosystem that includes voice assistants, TVs, appliances, security cameras, or climate control. If so, you can easily add a WiFi leak protection device to the mix.
One option is the D-Link Whole Home Smart WiFi Water Leak Sensor Kit, a budget-friendly DIY system. No hub is required as it uses your home's existing WiFi connection.
The kit comes with two leak detection sensors units. A master sensing pod that plugs into a standard wall outlet (pictured below right). This unit connects to 3' extension cord for greater reach and a 1.5' sensing cable to run alongside or underneath target spots. Place this one near an area susceptible to water leaks, such as a laundry room, and as close to your WiFi router as possible. The remote sensing pod (picture below left), in contrast, can be placed in any other area such as under the water heater or sink.