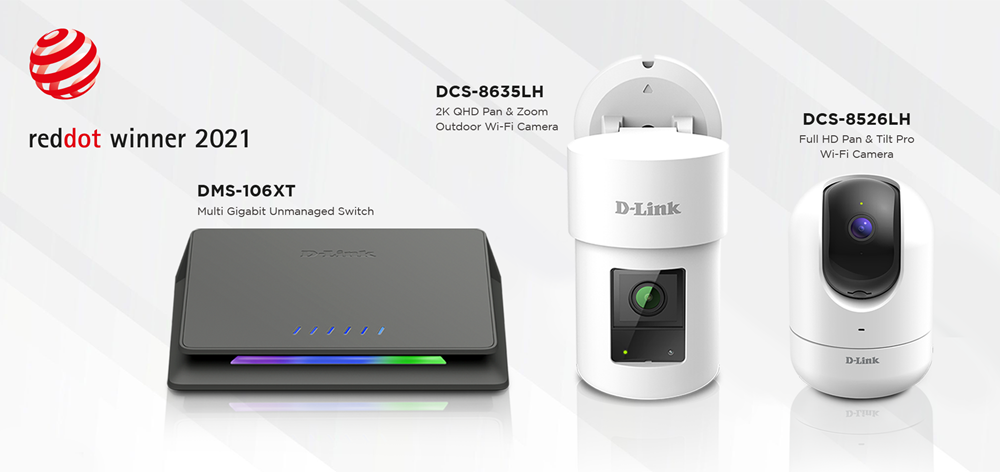 [FOUNTAIN VALLEY, Calif. – April 8, 2021] –D-Link USA today announced that a trio of innovative products were named receipents of the 2021  Red Dot Award: Product Design: Multi-Gigabit Unmanaged Switch (DMS-106XT), 2K QHD Pan & Zoom Outdoor Wi-Fi Camera (DCS-8635LH), and Full HD Pan & Tilt Pro Wi-Fi Camera (DCS-8526LH).
 "D-Link is honored and grateful to receive three product design awards this year from the internationally renowned Red Dot Award," expressed Mark Chen, president of D-Link. "This recognition further motivates us to continue producing products of the highest quality and innovation." 
 D-Link's latest unmanaged switch, the DMS-106XT, is outfitted with five 2.5G Ethernet ports for uninterrupted, efficient connectivity. A 10G Ethernet port provides uplink or NAS connectivity. Featuring Smart Turbo Mode, the multi-gig switch offers Quality of Service (QoS) and port-based priority to support simultaneous multimedia services including, gaming and 4K streaming with just a single click. 
The DCS-8635LH is an IP65 weather-resistant camera with stellar 2K QHD resolution and 360-degree coverage from its motorized pan feature. AI-based features such as person detection, vehicle detection, and auto-person tracking ensure precise surveillance for added peace of mind. 
The mydlink DCS-8526LH surveillance camera delivers 360-degree views in high-quality 1080p HD resolution along with a host of sophisticated features: pan and tilt technology, edge-based person detection, auto-tracking motion, and panoramic viewing. The camera is also a winner of the 2021 Taiwan 
Excellence Award and 2020 iF Design Award.


About The Red Dot Award
Dating back to 1955, the annual Red Dot Award: Product Design is awarded to products of outstanding design quality in roughly 50 different categories. 50 international experts judge the entries based on aesthetic appeal, function, intelligence, and innovation.
About D-Link
D-Link designs, develops, and manufactures award-winning products that connect homes, businesses, and service providers. It implements and supports unified network solutions that integrate switching, wireless, broadband, IP surveillance, and cloud-based network management. For more, visitdlink.com, or connect on Instagram,Facebook,LinkedIn, Spiceworks, YouTube, and the D-Link Business Blog.
 # # #
 D-Link, mydlink, and the D-Link logo are trademarks or registered trademarks of D-Link Corporation or its subsidiaries. All other third-party marks mentioned herein may be trademarks of their respective owners. Copyright © 2021 D-Link. All Rights Reserved.