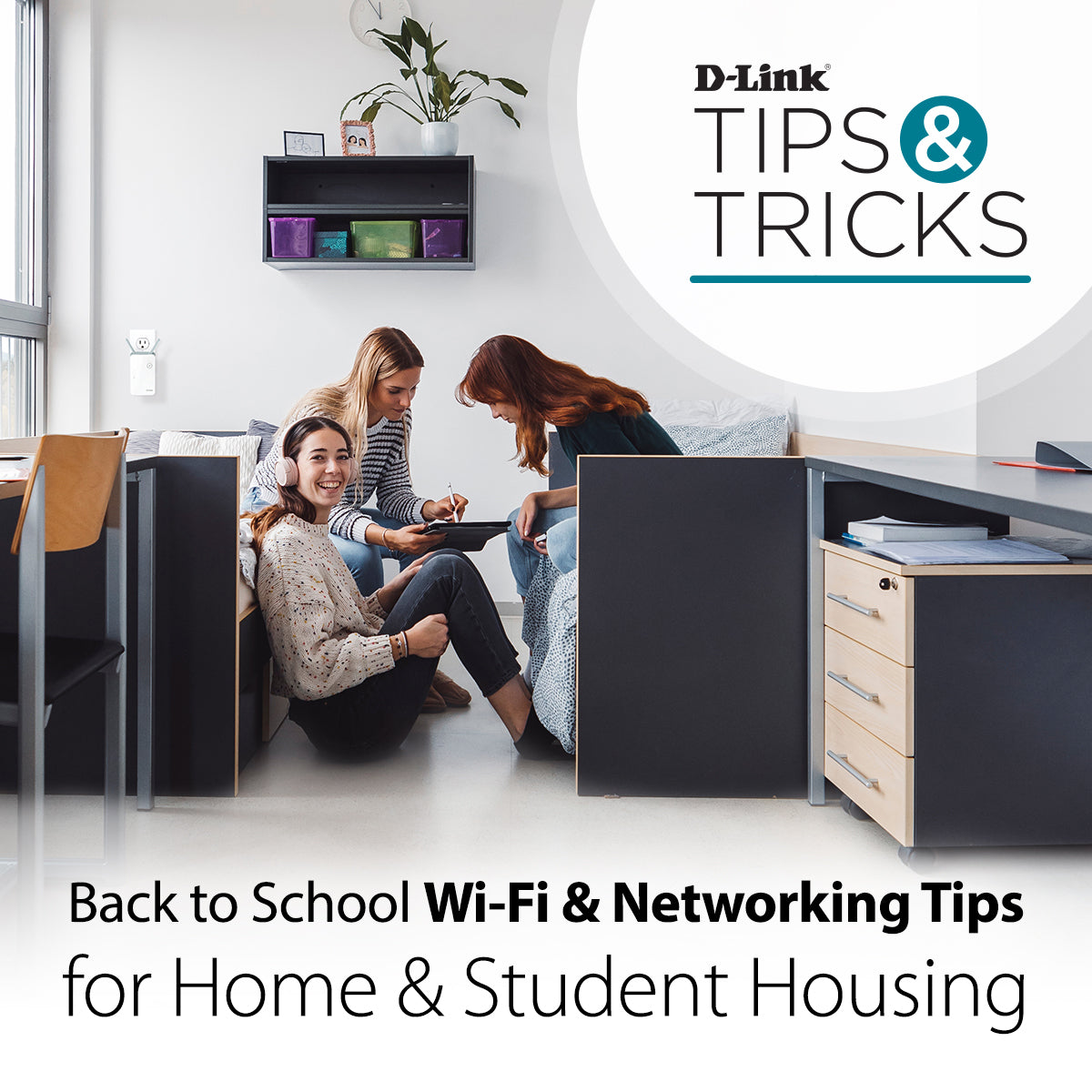 As students gear up for another school year, a reliable and efficient Wi-Fi network is essential for seamless online learning, getting homework done, and connectivity. Whether you're studying from home or living in student housing, optimizing your Wi-Fi setup can make a significant difference in your productivity and overall experience. Here are some essential tips to enhance your back-to-school Wi-Fi network.
Personalized Connection: Using a Wi-Fi Range Extender with Your Own SSID Living in a student house? Boost your Wi-Fi experience by setting up a Wi-Fi range extender with your own SSID (network name). This way, you can create a dedicated connection to your room, reducing congestion and ensuring a faster, more reliable connection. This is particularly useful when multiple roommates are sharing the same network, as it minimizes interference and enhances your online activities. D-Link offers a full line of Wi-Fi Range Extenders from entry level more advanced solutions. For those on a budget, check out the DAP-1610 or if you want a little more power, check out the Wi-Fi 6 E15.

Upgrade to Wi-Fi 6 Mesh System for More Study Spaces at Home If you're studying from home, consider upgrading your home network to a Wi-Fi 6 mesh system. Wi-Fi 6 offers improved speed, capacity, and coverage compared to its predecessor, making it perfect for creating more study spots within your home. Mesh systems consist of multiple access points that work together to provide seamless coverage, enabling you to study in any corner of your house without worrying about connectivity issues. Mesh Systems are often available on 2-packs, like the M15/2, or 3-Packs, like the M15/3.

Optimize Wired Connections with a Network Switch For devices that require a stable and high-speed connection, such as gaming consoles or desktop computers, adding a network switch to your setup is a smart move. A switch helps balance the load on your network, reducing demand on the Wi-Fi and ensuring smoother performance for wired devices. This is especially useful when you need to manage heavy data tasks, like large file downloads or video streaming. Consider saving money with a Certified Refurbished Switch like this DGS-1100-05PD/RE.

Upgrade from Wi-Fi 5 to Wi-Fi 6 for Enhanced Performance If you haven't already, consider upgrading your devices and router from Wi-Fi 5 (802.11ac) to Wi-Fi 6 (802.11ax). Wi-Fi 6 offers faster speeds, improved performance in crowded areas, and better support for multiple devices. This upgrade can significantly enhance your online experience, allowing you to stream, video conference, and download/upload files more efficiently, even during peak usage times. If you want to keep network management simple, check out AI powered R32 or the performance rich DIR-X4860.

Monitor Arrival with Wi-Fi Cameras In the midst of managing your back-to-school Wi-Fi setup, it's important to prioritize safety, especially when it comes to your children. Installing Wi-Fi cameras at key entry points of your home, such as the front door or foyer, offers you the ability to keep an eye on your kids' comings and goings. Some Wi-Fi cameras, like the DCS-8302LH are great for both indoor or outdoor monitoring, others like the DCS-6100LHV2 are great for indoor monitoring. If you're kids (or pets) are always on the move, consider a Pan/Tilt camera with auto tracking, like the DCS-6500LHV2. With features like night vision, sound/motion detection and 2-way audio, and push notifications, Wi-Fi cameras help keep you in the know. These solutions also offer add-on professional monitoring solutions if you are looking for that extra peace-of-mind.

Smart Landlord Solutions: Wi-Fi Water Leak Sensor for Student Housing If you're a landlord renting out student housing, it's crucial to provide a safe and secure environment for your tenants. You also want to keep your investment safe. Consider adding a Wi-Fi water leak sensor like the DCH-S1621KT to your student housing network. These sensors can help detect a leak early, preventing costly repairs and ensuring a comfortable living space for your student tenants.
As the school year begins, a robust Wi-Fi and networking setup can greatly impact your productivity and comfort. Whether you're a student setting up your own network, a landlord managing student housing, or a parent looking for more peace-of-mind, implementing these tips can lead to a seamless online experience and a successful academic journey. With a personalized connection, upgraded hardware, and smart solutions, you'll be well-prepared for a productive and connected school year ahead.